Korean Ambassador Take Notes On Cambodia-Korean Bilateral Cooperation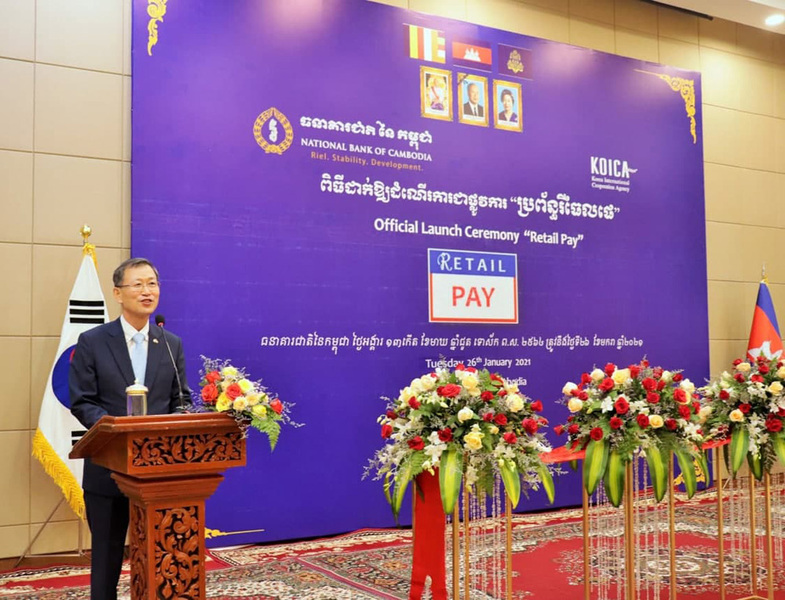 Cambodia is now one of Korea's key partner countries in terms of Official Development Assistance (ODA) programmes, said Republic of Korea's Ambassador H.E. Park Heung-kyeong.
Addressing at the "Retail Pay Official Launching Ceremony" held here yesterday, H.E. Park Heung-kyeong said following the re-establishment of diplomatic ties in 1997, Cambodia and the Republic of Korea have been making remarkable advances in the bilateral relationship across the full range of the political, economic, development and cultural cooperation realms.
"In the early 1990s, Korea's grant aid to Cambodia started on a small scale, mainly in the form of humanitarian aid. But the volume has increased remarkably to reach US$71 million in 2019, with the areas also expanding to encompass health, education, finance, and ICT," he underlined.
H.E. Ambassador also reaffirmed the Korea's strong commitment to the socio-economic development of Cambodia and the prosperity of the Cambodian people, adding that KOICA will of course continue to be a reliable and effective partner for cooperation with Cambodia.
The bilateral trade between Cambodia and South Korea was valued at US$884 million last year, a year-on-year decrease of 14 percent. Cambodia exported US$317 million worth of products to South Korea, a decline of 18 percent compared to the previous year. Meanwhile, the Kingdom imported US$567 million worth of goods from South Korea, sliding down 5 percent.
Besides the two countries have posted high hope of trade growth on the soon-to-be finished draft of free trade agreement. AKP