Think Tank 2022: "The Election was Free, Fair, Inclusive, Peaceful, Transparent and Safe"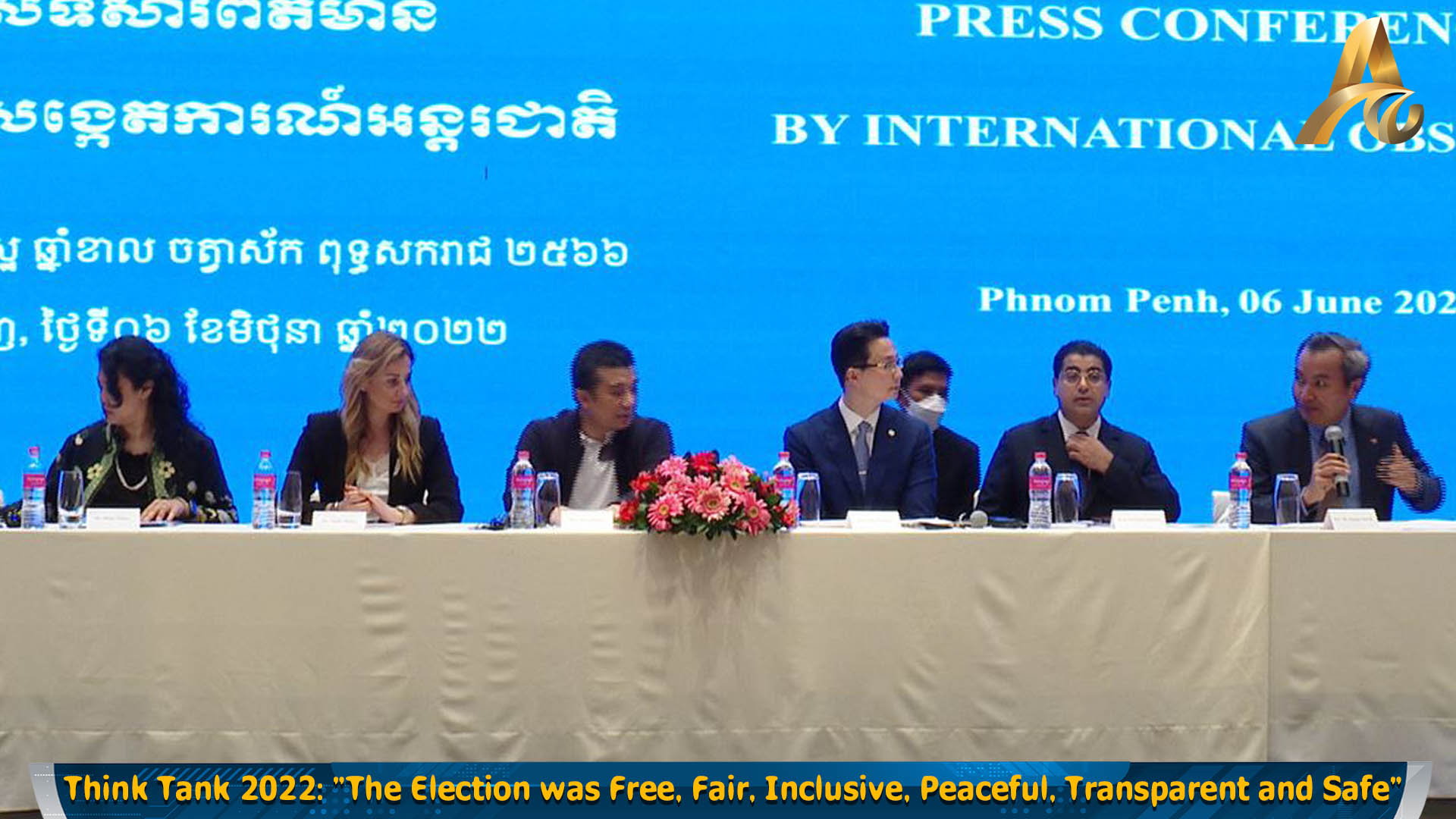 The international delegation representing Think Tank 2022 Forum, a civil society platform of the Universal Peace Federation (UPF), released a statement of observation on the 2022 Commune/Sangkat Council Election held on Sunday, 5 June 2022. The statement from the delegation was written and signed by the Director-General of the UPF and Think Tank 2022, Hon. Dr. Yun Young-Ho.
During the delegation's stay in Cambodia, they had a chance to meet with Prime Minister Hun Sen, the NEC, leaders of the Civil Society Alliance Forum of Cambodia, representatives of key political parties, local and international observers, election monitors, including from diplomatic missions in Cambodia and international organizations, think tanks and other civil society organizations. The delegation also attended a workshop organized by the Civil Society Alliance Forum, which was joined by around 70 other international observers.
The delegation took note of the fact that 17 political parties had registered with NEC to compete in this sub-national election, "reflecting a vibrant participation in the multi-party-democratic process in line with the country's 1993 Constitution." They also added their observation that the campaign period from 21 May to 3 June 2022, "was conducted in a smooth, calm, peaceful, transparent, free and just manner," with no indication of threats or irregularities of any sort.
Based on the delegation's firsthand experience on election day, they provided the following assessment on the voting process:
"From the random visits to several polling stations, prior to the opening hour of the voting, the delegation could observe a good preparation process, while NEC staff conducted their duties with high professionalism and integrity.
Through randomly observing the voting process, at various polling stations in the capital city of Phnom Penh and in adjacent urban and suburban areas, the delegation noted that all the relevant Cambodian authorities had put immense efforts in providing a conducive condition for all political parties to participate in the election, based on the principles of inclusiveness, transparency, free and fairness, which essentially ensured against any major incidents that could undermine the process and the results of this subnational election."
Overall, the delegation conclude that "the election was successfully organized in a free, fair, inclusive, peaceful, transparent and safe environment and in accordance with international standard and practices. The conduct of this election has demonstrated the considerable experience that Cambodia has acquired in organizing local and parliamentary elections over the course of more than two decades."
The delegation commended "the Cambodian voters who have actively exercised their rights at the ballot box, the political parties for their commitment to respect the rules and regulations and the relevant authorities for ensuring the peaceful conduct of the Commune Election." They further state that they see "the success of this Commune Election as another testimony to the progress of Cambodia's democracy and the election outcomes truly reflect the will of the Cambodian people." EAC News