IPTP Delegation Congratulates the Cambodian People, NEC and Relevant Institutions for Successful Election Process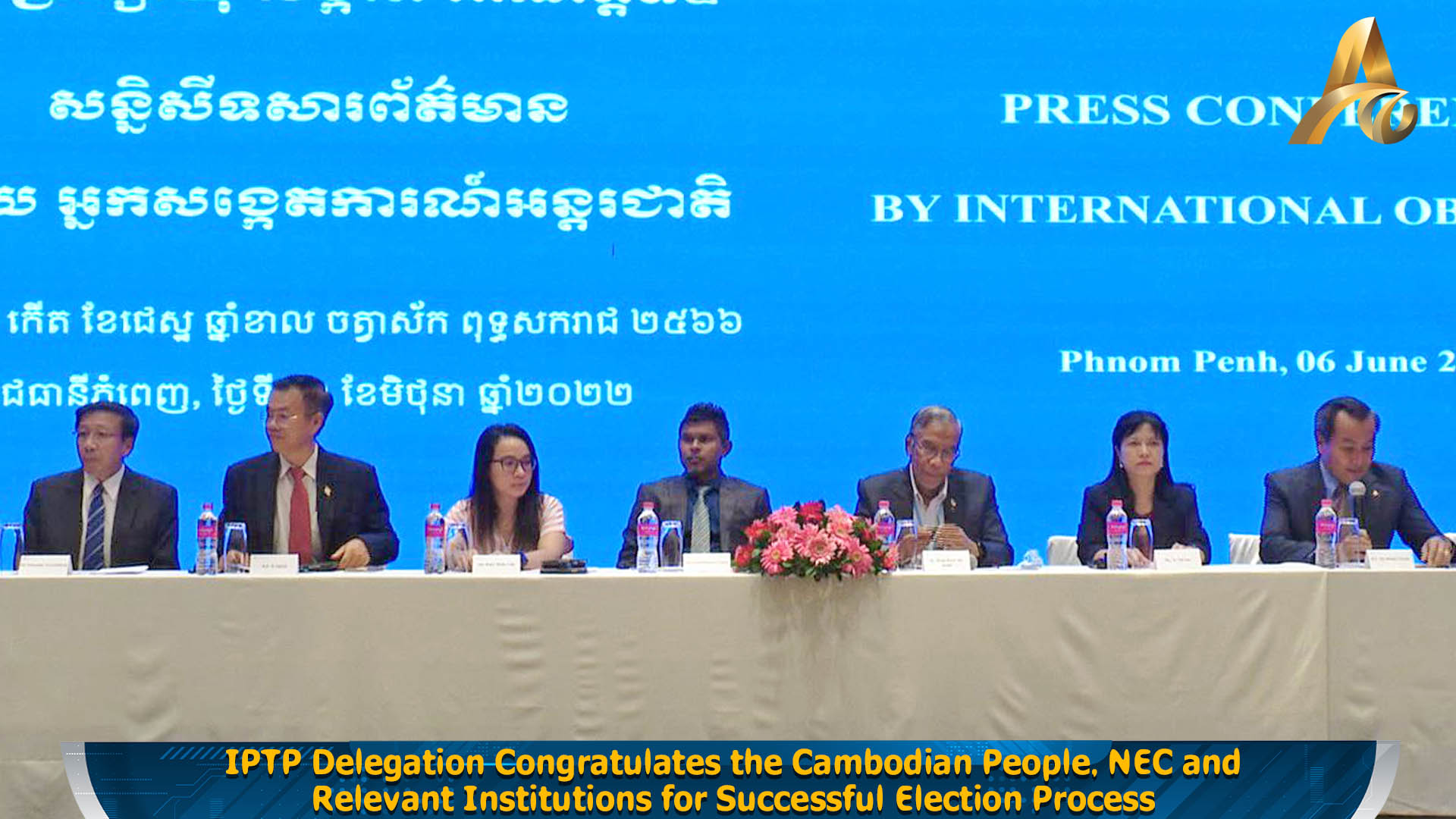 A group of international observers from the International Parliament for Tolerance and Peace (IPTP) have released a statement of observation on the 2022 Commune/Sangkat Council Election held on Sunday, 5 June 2022. The IPTP delegation, which was led by Honorable (H.E) Shamsul Iskandar Bin Mohd Akin and His Excellency Hussain Mohamed Latheef, was invited to observe the election in Cambodia by the National Election Committee (NEC) through the Civil Society Alliance Forum (CSAF).
The delegation state that they appreciated the Cambodian Government and the NEC's endeavors in ensuring safety and security for voters, members of political parties, the election staff, members of the media and local and international observers before, during and after the election, and said that the Election Commission had been very prepared and organized for this election. The IPTP delegation further state that they, along with other local and international observers, representatives from various political parties and civil society organizations, also monitored the vote counting process, which indicated high degree of inclusiveness and transparency.
The IPTP delegation congratulated the Cambodian people, the NEC and over nine million registered voters and other relevant institutions for successfully conducting a free, fair, secrete and credible commune/sangkat election. The IPTP delegation say they witnessed a sincere desire from voters to exercise their rights in a peaceful and democratic manner, and were also able to speak to some of the voters at the polling stations and found that information on voting and the rights of voters had been well-relayed to the public.
On 04 June 2022, the IPTP delegation paid a courtesy call to Prime Minister Hun Sen and was also briefed by representatives from the NEC and other key speakers on a range of issues concerning the election process as well as the general situation and democratic development in the country.
On election day, 05 June 2022, the IPTP delegation visited several polling stations in the capital city of Phnom Penh and stat that they observed the election process to be generally well organized, effective and peaceful. The delegation say they were impressed by the large voter turnout and observed that the voters were casting their ballot in an open and free environment.
"More importantly, the voters appeared to be enthusiastic and happy to take part in the election process. There was no sign of intimidation, coercion and violence. Furthermore, the election staff that was selected through a transparent and competitive process performed their job with a high degree of integrity and professionalism," said the IPTP.
The statement concludes that the delegation observed that the NEC followed a lot of procedures under International Guidelines, however, they recommend the NEC to give more trainings to officials at the polling stations with demonstrations and exercises, provide more accessibility for persons with disabilities and those who require special assistance, and to also display voters lists on a wall or board at the polling station.
The statement was signed by Member of Parliament and Member of IPTP, H.E Hussain Mohamed Latheef, on behalf of the IPTP delegation. EAC News