Statement of the Observation Delegation CAPDI on the Election of the Commune-Sangkat Councils in Cambodia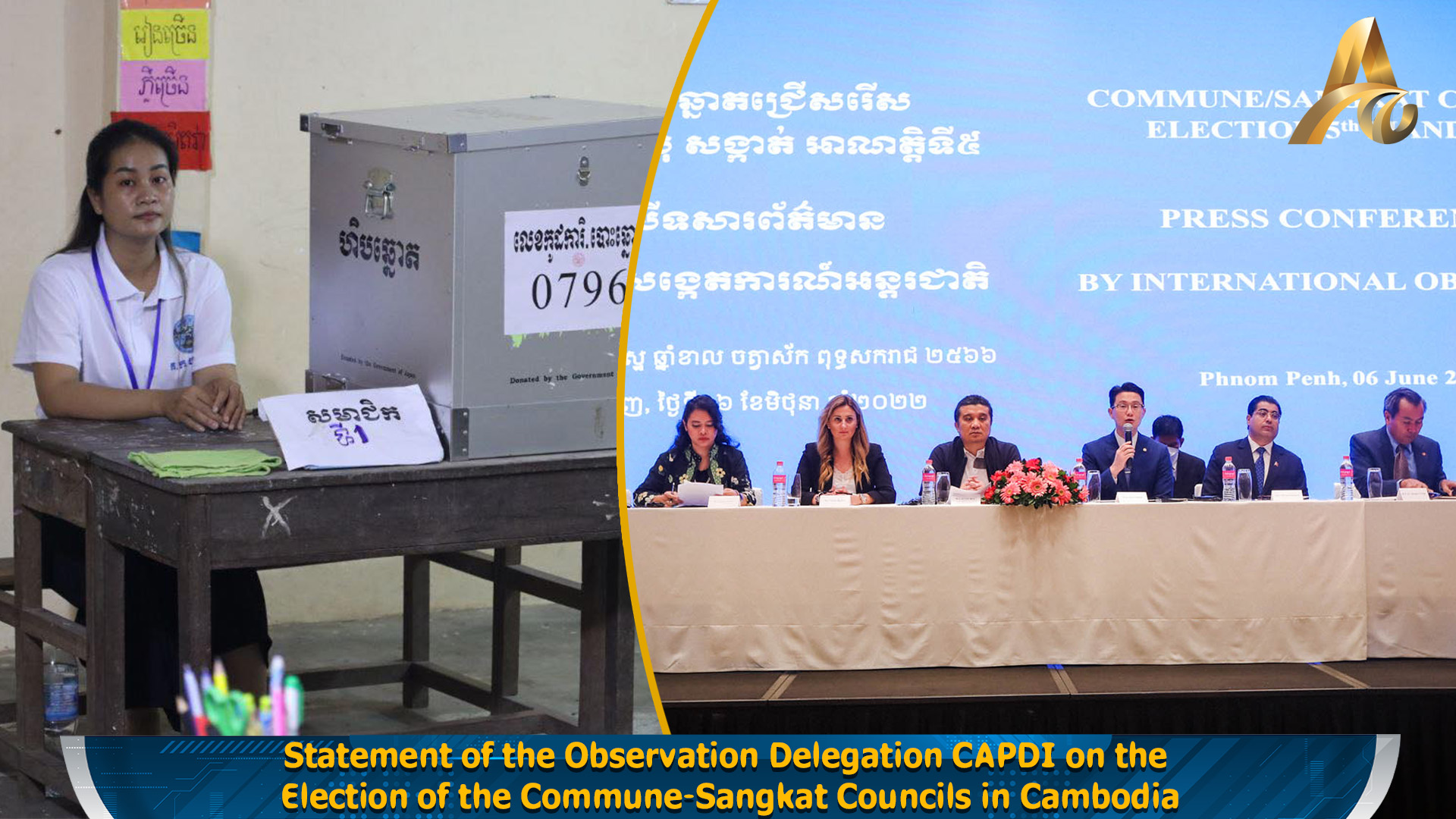 A Statement released from Centrist Asia-Pacific Democrats International (CAPDI), 6 June, 2022 with their findings of the commune/Sangkat Elections held on the 5th June 2022. Mr Erwin Aksa, Ms Gozde Dizdar, Ms Dinna Wisnu.
At the invitation of the National Election Committee (NEC) through the Ministry of Foreign Affairs and International Cooperation of the Kingdom of Cambodia, the Centrist Asia-Pacific Democrats International (CAPDI) sent an observer delegation to observe the commune/Sangkat council election held on 5 June 2022 in the Kingdom of Cambodia.
Upon arrival in Phnom Penh, the capital city of the Kingdom of Cambodia, on 3-4 June, 2022, the delegation met with NEC and leaders of main political parties and was briefed in details by NEC on its functioning and how to organize the 2022 election with transparency.
The delegation also met with national observers, the observer missions of international organizations, and voters. Conditions were taken for monitoring the election, to check on the openness, freedom, and transparency of the electoral process.
On the election day, the CAPDI delegation visited polling stations shortly before they opened and watched NEC staff make preparations, in order to ensure the electoral process is substantially in line with the international commitments. We noted the voter turnout rate was relatively good and also was the professionalism and integrity of NEC staff. To gain the most insights into the election process, the delegation carried out its observation activities in six polling stations in various areas in Phnom Penh and Muk Kampoul district.
The overall election environment was characterized as calm, peaceful and non- violent. The delegation did not observe any complaints that might have adversely affected the process or the results of the 2022 election.
We congratulate the people of Cambodia for their active participation in the election and wish Cambodia every success in strengthening its democracy and development. The success of the 2022 election is yet another significant step in promoting the Kingdom's ongoing reforms to realize the people's aspirations for peace, democracy and development.
In this spirit, we call on the International Community to cooperate constructively with the Cambodian people and with the elected Royal Government of Cambodia to ensure the continuity of the observance of the rule of law, promotion of good governance, and the enhancement of economic and social development for the people's welfare, considering the progress already achieved by the government and the people.
It is also our hope that in line with democratic principles, the opposition parties shall continue to exercise its role in the nation's growth and development. EAC News