Back to square one: Rival royalist parties seek to reunite yet again before polls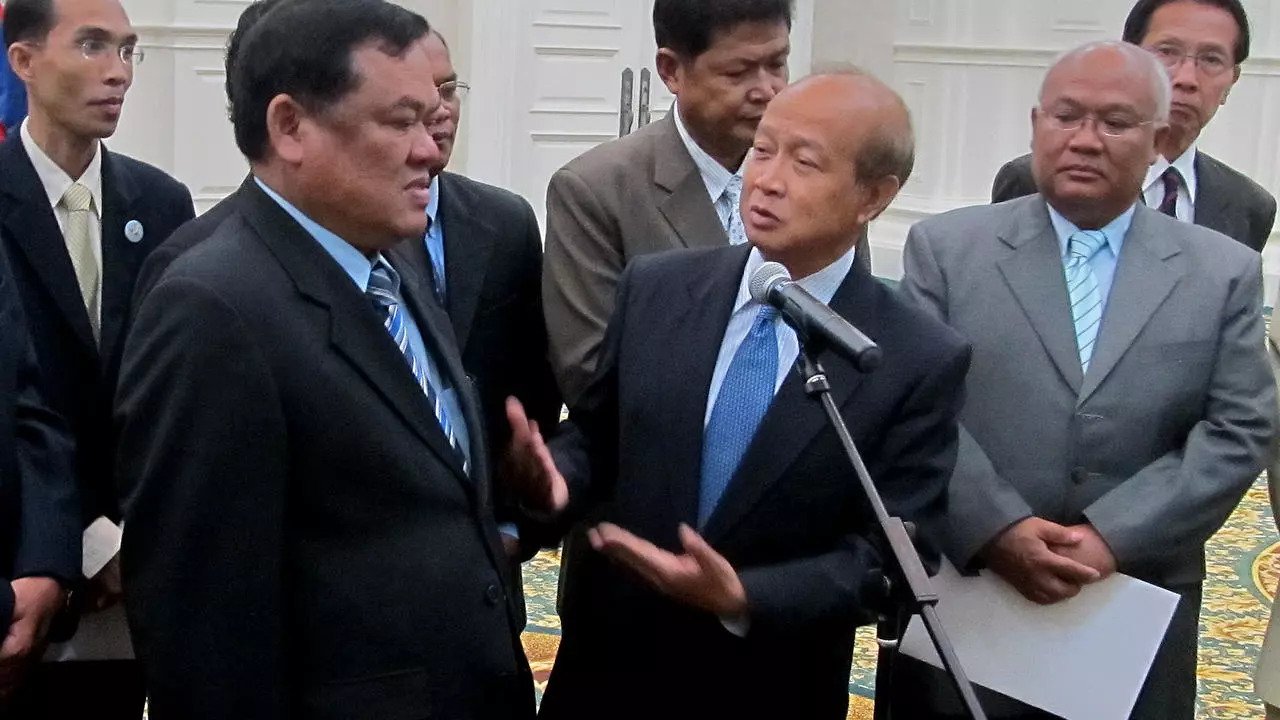 With the Commune Council Election approaching, the two royalist parties Funcinpec and Khmer National United Party (KNUP) are committed to merging before then to challenge the ruling Cambodian People's Party (CPP).
Nhek Bun Chhay, then Funcinpec's vice president split from the royalist party in 2015 to form the KNUP after an internal party conflict.
However, he pledged to put aside his differences with party president Prince Norodom Ranariddh and both sides tried to reconcile a few times in the past.
The two parties failed to unite before the 2018 National Election amid the dissolution of the main opposition Cambodia National Rescue Party (CNRP) in 2017 and as a result, the CPP swept all 125 National Assembly seats.
Since 2019, the parties have agreed to merge after top leaders of both parties met several times to sort out the issue in Phnom Penh but the unity has still not materialised.
Bun Chhay said last week that he recently met with Prince Ranariddh's wife Princess Norodom Marie Ranariddh to discuss the merger between two parties to participate in the 2022 Commune Election and 2023 National Election.
According to the National Election Committee (NEC), the 5th mandate of the Commune Council Election, known as the "Commune Election", will be held on Sunday, June 5, 2022.
Funcinpec spokesman Phan Sithy yesterday confirmed the phone conversation between Princess Marie and Bun Chhay, but declined to elaborate on the details.
Sithy said Funcinpec is committed to merging with KNUP before the commune election in 2022.
"We want to merge before the Commune Council Election. We think that if we are still separated, our voice will still not be enough (to win votes). If we are together, we have more voices," he said. "If we merge, we can win more commune council and parliamentary seats."
Sithy acknowledged that the split among the royalists caused Funcinpec to become weaker and weaker over the past years.
Funcinpec has been a less influential political party over the years. In 1998, it managed to secure 43 seats during the national election, 26 in 2003, only two in 2008 and it won no seats during the 2013 and 2018 elections.
"The reason we did not get anything is that we do not always get along, so this is an experience that we think is enough for Funcinpec and the former Funcinpec leaders to understand the problem and act in the national interest," he said.
Bun Chhay could not be reached for comment yesterday, but he told local news the party is speeding up the unification with Funcinpec as soon as possible, saying there is only one year left to participate in the Commune Election.
"The discussion process has been going on for more than a week and is being coordinated by the leaderships to achieve unification," he told CEN. "The discussion went smoothly as there were no obstacles. Therefore, in the near future, we will be able to achieve this unification so that we can participate in the upcoming commune election as well as 2023 National Election."
Bun Chhay noted that after the merger between the two parties, there will be an alliance with a number of political parties, including opposition parties, to join together to participate in the election.
Asked yesterday if Funcinpec is interested in a joint coalition with other parties, Sithy said the party remains open to the possibility.
"As a matter of principle, from the beginning, Funcinpec has been open minded about cooperating with all parties if we have the same policy to serve the national interest. We do politics for the nation and whether a strong or weak party, we must unite," he said.
Funcinpec won the first national election which was organised by the United Nations Transitional Authority in Cambodia in 1993, winning 58 out of 120 National Assembly seats, while the CPP received 51.
Having not won seats in 2013 and 2018, the party was criticised after it accepted 41 of 55 National Assembly seats held by the CNRP which were divided out after that party was dissolved by the Supreme Court in 2017.
CPP spokesman Sok Eysan yesterday welcomed the move, saying the ruling party wants viable challengers to participate in the elections.
"It is their right to unite. In the past, they tied up with each other once, but later broke up, now they are tying up again," he said.
Eysan said the CPP, is not concerned about any tie ups with rival parties to threaten victory for the ruling party.
"We are not worried about their threats, we just want to have potential competitors," he added. Cambodian Institute for Democracy president Pa Chanroeun said yesterday that he is not surprised over the commitment of the two royalist parties to merge.
"It is a repetitive act by both parties to form a single party before or after an election season," he said.
"Both parties have distanced themselves from the interests of the Cambodian people…because of their past activities as well as their political affairs, such as not focusing much on helping to solve the main problems that the people face. They have to work hard to resolve their internal conflicts, as we have seen in the past," he added.
Funcinpec announced early this year that Prince Ranariddh will return from medical treatment in France to once again lead the royalist party in February, following years of having been out of politics and leaving the party in the hands of his eldest son, Prince Norodom Chakravuth who has little experience in politics as acting party president.
His planned return was rescheduled to April but Prince Ranariddh was still unable to return to the country due to the Covid-19 pandemic.
In August 2018, Prince Ranariddh hand-picked his oldest son, Prince Chakravuth to take over the party in his absence for medical treatment in Thailand after a fatal car crash that killed his wife Ouk Phalla in June 2018.
After being appointed as "acting president", Prince Chakravuth began clearing ranks in the party, terminating the membership of four senior officials, including vice presidents, a move which led to a complaint to the Ministry of Interior.
The party also has encountered further conflict as there has been a report that a number of ex-senior Funcinpec officials, including You Hockry, Por Bun Sreu, Nhep Bunchin and Yim Savy, held a meeting in February, in order to "save" Funcinpec, while Prince Ranariddh remained in France for medical treatment.
However, the meeting was condemned by current party officials, who accused the group of having "malicious intent" which went against the party's bylaws, a claim which was rejected by the ex-senior officials. Khmer Times