Cambodia's investment potential promoted in EXPO 2020 Dubai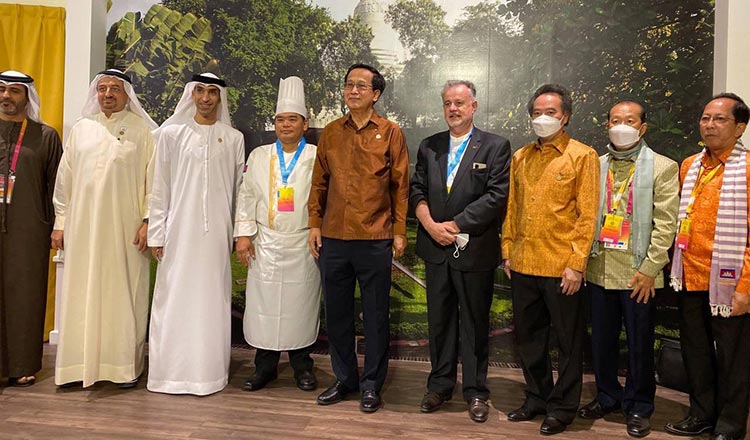 Cambodia took part in EXPO 2020 Dubai promoting potential sector ranging from investment to tourism with the aim to attract new foreign investors and tourists to the Kingdom.
Pen Sorasak, Minister of Commerce, led the Cambodian delegation comprising Ministry of Tourism, and private sector to join the expo fair held in Dubai, the United Arab Emirates.
In the 'Cambodia Day' event held on January 24, the Khmer art performances were held, Khmer cousins project was showcased besides holding an investment and tourism promotion forum.
Speaking at the event, Sorasak said Cambodia welcomed businessmen and investors who wish to seek investment opportunities in Cambodia, as well as foreign tourists to visit the Kingdom to better understand the culture, civilisation and natural resources.
"After participating in EXPO Dubai 2020, the world will know more about our country and take interest in Cambodia," Sorasak added. "Cambodia hopes that by organising the forum to promote investment and tourism, it will attract investors and more international tourists to visit the Kingdom."
The overseas investment promotion will contribute to attracting new foreign investors, said Lim Heng, vice president of the Cambodia Chamber of Commerce.
The promotion channels of tourism potential products and investment opportunities to foreigners abroad have been limited, he said.
"With new potential investment and incentives to foreign investors such as new investment law, we need to promote widely and efficiently to outsiders in understanding the country's potential," Heng said.
"Once we are able to join and promote the investment sector, it is a good potential," he added.
EXPO 2020 Dubai is the first world-class event being held in the UAE for six months and runs from October 1, 2021, to March 31, 2022, under the theme of Connecting Minds, Creating the Future and has three sub-themes: Opportunity, Progress and Sustainability.