NBC: Cambodia has sufficient reserves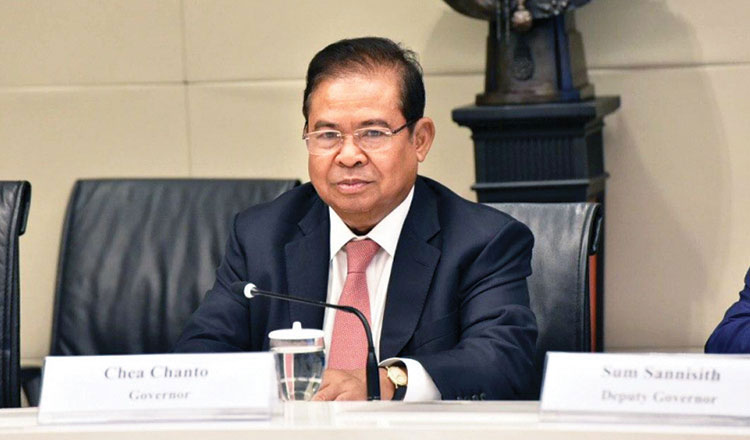 The Cambodian economy has "sufficient" international reserves that can guarantee the export of goods and services for 10 months, according to National Bank of Cambodia (NBC) Governor Chea Chanto.
The revelation came during a meeting with International Monetary Fund (IMF) Senior Economist Alasdair Scott.
Scott is also Chair of the IMF's Article IV Consultative Mission for Cambodia. His office is studying the country's financial situation so that it can make policy recommendations.
Chanto informed Scott during the digital conference that the Kingdom has avoided inflationary pressure and enjoyed a stable exchange rate with less than 2 percent volatility.
During the conversation, Chanto also expressed his appreciation for the IMF's technical assistance, particularly in the field of human resource development.
The NBC Governor also highlighted that assets in the banking system had increased by more than 17 percent to in excess of $54.398 billion at the end of the first half of the year, compared with last year.
Deposits increased by 19.7 percent to some $32.09 billion during the same period.
The IMF last month approved a $240 million grant aid to help the Kingdom's economy recover from the pandemic.
Scott is in Cambodia for a two-week mission slated to conclude on Sept 27. In a statement, he commended the government in its efforts to mitigate the impact of the pandemic.
Chanto reaffirmed his commitment to helping spur economic activity, particularly in sectors most affected by the pandemic and vulnerable members of society.
The news comes amid a series of downgrades regarding Cambodia's economic prosperity this year.
The World Bank, IMF and Moody's have slashed the Kingdom's projections, given its dependence on international tourism.
Working groups have been coordinating efforts with the government to reopen the economy by the end of the year.
One major drive has been seeking trade deals with other countries with agriculture and processed goods at the forefront.
As reported in yesterday's paper, Cambodia's hopes of being a member of the world's biggest free trade bloc as early as Jan 1 may be frustrated by some signatories of the Regional Comprehensive Economic Partnership (RCEP) dragging their heels over ratification.
RCEP is the result of eight years of talks. It would create a free-trade bloc covering 30 percent of the world's economy, exports and consumers. Members are anticipated to gain $174 billion in real income by 2030, according to the Asian Development Bank.
Cambodia is one of the 10 ASEAN members that signed the agreement in November along with China, Japan, South Korea, Australia and New Zealand. It will come into force 60 days after ratification by six ASEAN and three non-ASEAN signatories.
Cambodia's National Assembly passed a draft law last week approving RCEP ratification. ASEAN member Singapore has signed off on it, along with China and Japan.
Even if RCEP doesn't come into force at the start of next year, Cambodia can still benefit from bilateral free trade agreements (FTAs) with two of the signatories to the broader Asia-Pacific bloc.
An FTA with China has already opened the export door to direct sales of some Cambodian agricultural products and is likely to include more next year. Cambodia and China are committed to increasing bilateral trade to $10 billion by 2023, from $8.1 billion in 2020.
An FTA with South Korea is expected to be signed as early as next month. Bilateral trade in the first half of this year was valued at $451 million, a year-to-date increase of 6.7 percent, according to data from the Korea International Trade Association.
Meanwhile, the Ministry of Agriculture, Forestry and Fisheries has sought support from the World Bank on developing the agriculture sector, mainly for vegetable production and aquaculture. Khmer Times