Bank for International Settlement sees 'low' risk of banknotes spreading COVID-19 in Cambodia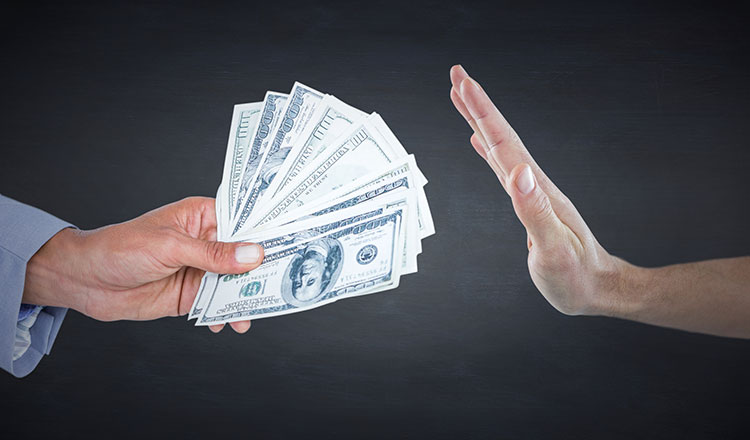 The risk of spreading COVID-19 through banknotes is one of the main concerns globally, but the Bank for International Settlements (BIS) – an international financial institution based in Switzerland said the probability of transmitting the COVID-19 virus through banknotes is low when compared to other frequently touched objects like card terminals.
Mrs. Seng Phanara, a Phnom Penh resident claimed to be more cautious when using banknotes in the daily transactions.
To avoid getting infected with COVID-19 through banknotes, when she gets the money from the market, Mrs. Seng Phanara always keeps in a plastic bag and exposes it to the sunlight for a few days to disinfect it before reusing it.
"We don't know how to avoid using banknotes, so this is my way to prevent COVID-19 pandemic," she underlined.
A moto-taxi driver Mr. Meas Mony also shared his concern over the risk of circulation of the virus contaminated-banknotes. "We don't know how high the risk is, but we heard about the risk of spreading the virus through banknotes," he stated.
Mr. Meas Mony said to prevent the pandemic, what he did on banknote circulation is not different from Mrs. Seng Phanara. He has to divide his new and existing banknotes into two different plastic bags and always apply self-hygiene norms.
In a study released late last week, the so-called central bankers' bank said the pandemic had led to "unprecedented public concerns" about viral transmission through cash.
The number of internet searches for both "cash" and "virus" is at record highs, led by Australia and France followed by Singapore, Switzerland, Ireland, Britain, Canada, the United States, Jamaica, and Kenya.
The BIS said one study found that the COVID-19 virus could persist for three hours in the air, 24 hours on cardboard and longer on other hard surfaces.
"Scientists note that the probability of transmission via banknotes is low when compared with other frequently-touched objects," it said.
"To date, there are no known cases of COVID-19 transmission via banknotes or coins."
The BIS said it was "unclear" if such transmission is relevant compared with transmission between people, through other objects or physical proximity.
"The fact that the virus survives best on non-porous materials, such as plastic or stainless steel, means that debit or credit card terminals or PIN pads could transmit the virus too."
The BIS study noted that the head of the German public health institute had stated that "transmission through banknotes has no particular significance."
According to the study, the Bank of England has noted that "the risk posed by handling a polymer note is no greater than touching any other common surfaces such as handrails, doorknobs or credit cards."
Germany's Bundesbank has advised the public that "risks of transmission through banknotes are minimal."
The Bank of Canada has asked retailers to stop refusing cash payments. And the South African Reserve Bank has counteracted scams by clarifying that there is "no evidence of transmission by cash," it said.
"Other central banks have taken further measures," the study said, noting that the People's Bank of China began sterilizing banknotes in affected regions in February.
And in early March, the Federal Reserve of the United States "confirmed that it was quarantining bills arriving from Asia prior to recirculation."
Central banks in South Korea, Hungary, Kuwait, and other countries have also moved to sterilize or quarantine banknotes, it said.
Central banks or governments in India, Indonesia, Georgia, and several other countries have meanwhile encouraged cashless payments.
But the BIS warned that "any move away from cash" could adversely impact some people.
"If cash is not generally accepted as a means of payment, this could open a 'payments divide' between those with access to digital payments and those without. This in turn, could have an especially severe impact on unbanked and older consumers."
The study noted reported difficulties in paying with cash in Britain — and the consequences for an estimated 1.3 million residents without bank accounts.
"In many of the emerging market and developing economies where authorities have recently called for greater use of digital payments, access to such alternatives is far from universal.
"This could remain an important debate going forward, potentially asking for a strengthening of the role of cash," the study concluded.
Based in Basel, Switzerland, the BIS was founded in 1930 and is now owned by more than 60 central banks accounting for 95 percent of the world's GDP. Sao Da & Khan Sophirom/AKP