NBC annual report details nation's 2020 financial picture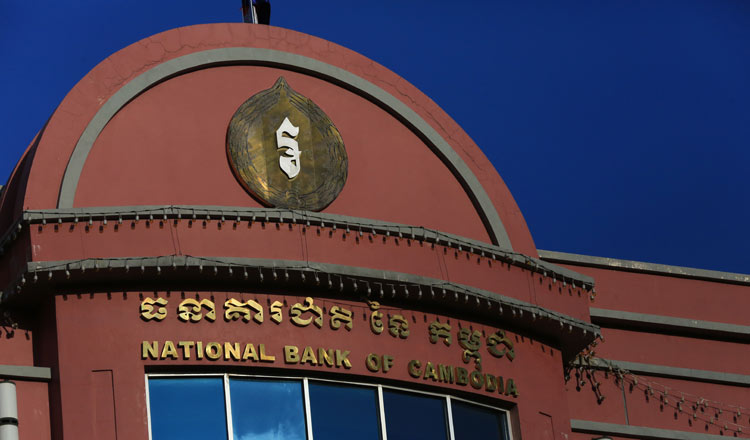 The Kingdom's international gold and dollar reserves have reached $21.3 billion, sufficient to guarantee the next 10 months of goods and services imports. This amount is in excess of the three-month minimum requirement for developing countries according to the annual report from the National Bank of Cambodia (NBC).
The NBC stated the level of international reserves on hand enable Cambodia to manage its exchange rate, stabilise the financial sector, increase national properties and build trust among the public.
The report noted that the banking sector's 2020 total loan portfolio is $30.2 billion, up 15.3 percent from 2019. The total amount represents 1.2 million loans. The loan category breakdown by sector was led by retail at 15.5 percent, personal mortgages at 12.8 percent, wholesale at 9.7 percent, personal loans at 9.8 percent, construction at 9.2 percent, real estate at 8.4 percent, agriculture at 7.7 percent with others accounting for the remaining 26.9 percent.
Bank deposits totalled $30 billion across 6.3 million accounts. This was an increase of 15.5 percent over 2019 figures. Loan restructuring in the banking sector for 2020 totalled $3.017 billion with 43,291​accounts being restructured.
Bank loan restructuring by sector was led by tourism at $803 million, garments at $43.1 million, construction at $477 million and logistics at $120.6 million with other sectors accounting for the remaining $1.57 billion. NBC reported 2020 total loans by microfinance institutions (MFIs) as $6.8 billion, up 12.5 percent over 2019. That total encompassed 1.9 million loans. The distribution of those loans broke down by category as loans to families at 31.2 percent, loans to commerce and trade at 20.9 percent, loans to agriculture concerns at 18.9 percent, to service providers at 16.2 percent, loans to transport firms at 6 percent, construction at 3.8 percent with others accounting for the remaining 3 percent. Deposits at microfinance institutions were $3.7 billion held in 2.7 million accounts.
Loan restructuring by MFIs totalled $1.139 billion across 241,783 loans. MFI loan restructuring by sector was led by tourism with $112 million of restructuring granted. The garment sector followed at $178.3 million, construction at $117.4 million, logistics at $91.5 million with other sectors accounting for the remaining $640 million.
During the presentation of its report, Khou Vouthy, deputy director-general of the NBC, said that banking and finance has been well managed, with the non-performing loan (NPL) ratio for 2020 being only 2.7 percent for the banking sector and 1.8 percent for MFIs. He said that total loan restructuring encompassed 285,074 loans worth some $4.2 billion in 2020. He also noted that the Kingdom's inflation rate was 2.9 percent in 2020, up from 1.9 percent in 2019. This increase was attributed to a rise in food prices and price decreases in other group of commodities and fuel-related services. Vouthy added food prices had increased 4.6 percent, compared with 2.1 percent in 2019. That rise was attributed to increased demand and the interruption of imported goods. He noted food prices among Cambodia's trade partners had also risen. Core inflation dropped to around 2.1 percent from 2.7 percent in 2019.
The NBC has forecast this year's inflation as stable at approximately 2.9 percent. Khmer Times