Siem Reap bird fair celebrates feathered friends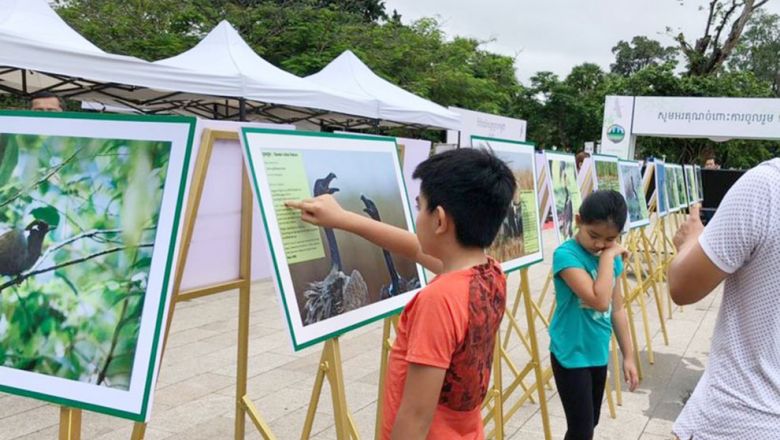 Siem Reap province hosted the Cambodian Bird Fair on Saturday and Sunday, where pictures of 20 different bird species were on display to raise public awareness of bird conservation in Cambodia.
The event was organised by the Ministry of Environment with the support of the Cambodia Bird Guide Association and the Greening Prey Lang project. The theme of this year's bird fair was "Bird Watching Linked to Eco-Tourism".
This was the second edition of the fair. At the event, bird conservation, eco-tourism and bird-watching were promoted as activities that can enhance local communities.
Ministry spokesman Neth Pheaktra told The Post that this year's fair differed from last year's because the ministry also organised a visit for students and fair participants to a bird sanctuary at Phnom Krom.
On Sunday, drawing booths were prepared to allow children to draw pictures of Cambodian birds, such as greater adjutants, cranes and vultures.
Pheaktra said: "Next year we plan to hold an ASEAN event with the participation of many ASEAN member countries and foreigners, but we have not yet set the location."
He said Cambodia is recognised by the world as a country with rich biodiversity. Cambodia has many species that are on the edge of extinction or endangered, such as vultures, giant cranes, small white-tailed monkeys and crab-eating monkeys.
"These species are rare, and if we organise an ASEAN bird photo exhibition, Cambodia will be increasingly known as a country with rare species of birds. These rare species can attract tourists to visit places such as the Prek Toal area and others," he said.
He added the exhibition is part of promoting Cambodia's biodiversity potential and its links to eco-tourism.
Un Chakrey, a representative from the US Agency for International Development's (USAID) Greening Prey Lang Project, said biodiversity conservation was a key part of the project.
"Recently, the project has installed a camera system to capture images of birds that are present in the forests of protected areas, and as a result, we have [noted] the presence of some rare bird species, such as white-winged ducks, vultures, cranes and greater adjutants," said Chakrey.
The two-day bird fair was held along the riverside park of Siem Reap town, with booths featuring pictures of many bird species, environmental promotion books and products from areas involved with protecting and conserving natural resources. Phnom Penh Post