The ox-cart, Cambodia's ancient Mercedes-Benz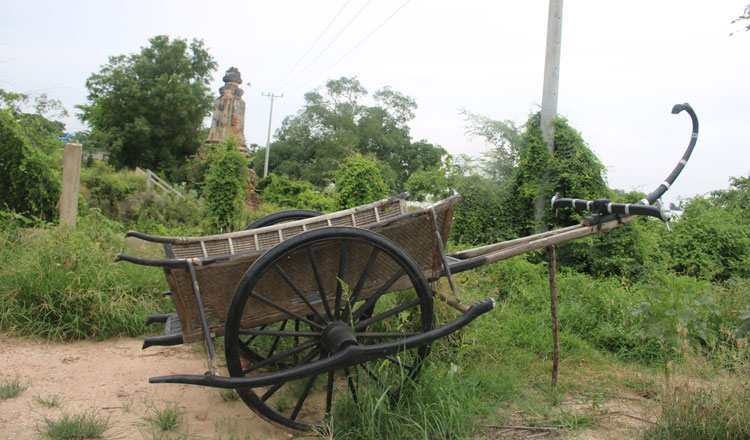 The humble ox-cart has been a method of transportation in Cambodia for hundreds –if not thousands – of years. Previously they were the main mode of transport in the Kingdom, now they are a rare sight with modern vehicles becoming the norm.
On the border between Kandal province and Prey Veng province, there stands a large sign saying: "Ancient heritage – Let's work together to preserve it." Next to the sign are 10 ox-carts, all painted black, and a man tending to the carts.
"Some of these are for sale, but some are for my own collection," says Im Sothy. "Of course, no one drives these carts on the roads today. People buy them to be used as décor in their house or resorts."
"But at least the next generations will still be able to see them and they will never be forgotten," he adds.
It has been two years since Sothy stopped farming and started his ox-cart business. He travels across Cambodia buying old carts from farmers and restoring them.
"It is not a very profitable business," he says, "old ox-carts aren't cheap, even the broken ones, and I have to put money into restoring them, a process that can take up to two weeks and I only make about $200 in profit."
Sothy chose to pursue this career because he has witnessed the disappearance of the traditional ox-carts on the roads, not for money. The few in existence tend to have rubber tyres instead of the original wooden wheels with iron rings.
"Maybe in the next two years, there will be no more on the road," he adds.
In the early 70s, people in his village were still traveling by foot or ox-cart because there were few bikes and even fewer cars. Sothy has always loved the slow-paced ride on a wooden wagon.
"My father taught me to drive an ox-cart at a young age," says the 58-year-old. "On the wagon, we could chat or even eat without being afraid of traffic accidents."
There are different types of Khmer ox-carts such as rotes krabey which is pulled by buffalo, and rotes trodous which has a two-level passenger seat. Richer people usually drove in a rotes sarley, a roofless two-wheel ox cart known for its speed, made from tmong luxury wood found in tropical countries.
Sambo Manara, a Cambodian historian, says in ancient times ox-carts were used as a status symbol.
"When people went out on their ox-cart, people would know how rich or how high their position was in the King's court," Manara says. "Driving a rotes sarley was equivalent to owning a brand new Mercedes-Benz."
According to Michel Tranet, a famous Cambodian archaeologist, ox-carts have been used since the reign of the King Jayavarama VII (1181–1218).
"The most recognised theory is that ox-carts were influenced by Indians, the first foreign people to arrive in the land which became Cambodia," Tranet added.
After the Khmer Rouge took over in 1975, ox-carts became even more important as automobiles and all modern mechanical vehicles were regarded by the regime as reminders of the "evil capitalists and imperialists".
As one of the "old people" (a term coined by the Khmer Rouge referring to those living in the rural areas before the fall of Lon Nol regime), teenage Sothy was appointed to be an ox cart driver. It was that time that he learned how to fix and restore ox-carts.
"Ox-carts have a long history in Cambodia, carrying our ancestors everywhere, including battlefields," Sothy says. "It would be painful if we just let them disappear."
It is not unusual for technology or tools to disappear from a community when modern technology takes over. However, old technology is good to preserve as a way to reminisce or for those who still use it.
Ox-carts are more than just ancient relics, they were the 'Mercedes-Benz' of empires gone by. Khmer Times