Two Priceless Statues from the 10th and 11th Century, Seized in United Stated Returned to Cambodia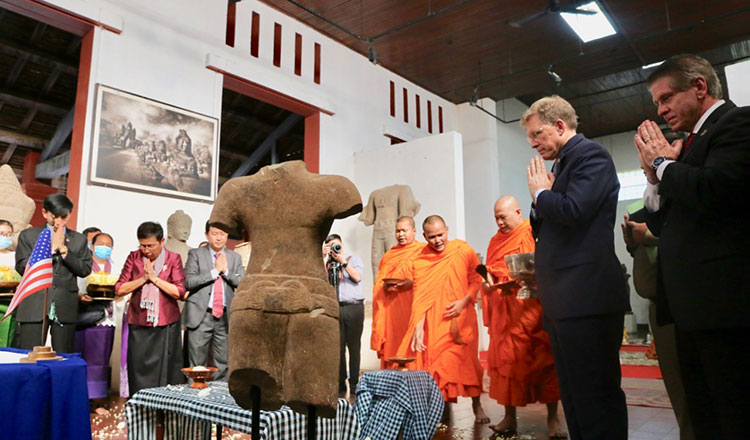 The U.S. Embassy Phnom Penh, including the Public Affairs Section (PAS) and Homeland Security Investigations (HSI), in collaboration with the Ministry of Culture and Fine Arts, has facilitated the return of two Cambodian statues from the United States following seizures in 2005 and 2017.
The statues arrived at Phnom Penh International Airport on Friday, April 3, 2020. Representatives of the Embassy and the Ministry attended a Buddhist blessing ceremony held at the National Museum after the official handover of the statues.
Ambassador W. Patrick Murphy praised the statues' return, saying, "As we celebrate the 70th anniversary of the establishment of U.S. – Cambodia diplomatic relations, today's return of these two statues serves as a reminder of what our two countries have achieved together".
The repatriation of the statues is part of the implementation of the Memorandum of Understanding (MoU) signed in 2018  between the Government of the United States of America and the Royal Government of Cambodia concerning "the Imposition of Import Restrictions on Categories of Archeological Material of Cambodia". The MoU is intended to reduce the incentive for the pillage of irreplaceable archaeological materials representing Cambodia's rich cultural heritage.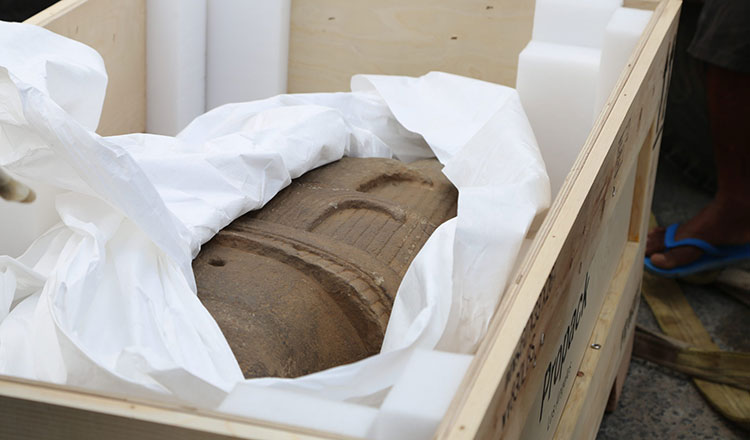 Dr. Phoeurng Sackona, Minister of Culture and Fine Arts state that, "On every return of Khmer artifacts from abroad, it is a testament to the fact that a fully cooperative and peaceful partnership exists, the result of efforts by the Royal Government of Cambodia and United States government, to make possible the return of the statues that have left the country. Despite the global health emergency and fight against the COVID19 coronavirus, the Khmer statues have been returned to our homeland and is a great boon to the nation".
"The attention to detail exemplifies the U.S. Government agency's professionalism and serves as a model for the cooperation of experts worldwide in the efforts to stop the illegal trade of precious and irreplaceable patrimony of the Kingdom of Cambodia. The work of the U.S. Embassy in coordination within Homeland Security not only protects cultural heritage but also reinforces the UNESCO 1970 Convention on the Means of Prohibiting and Preventing the Illicit Import Export and Transfer of Ownership of Cultural Property".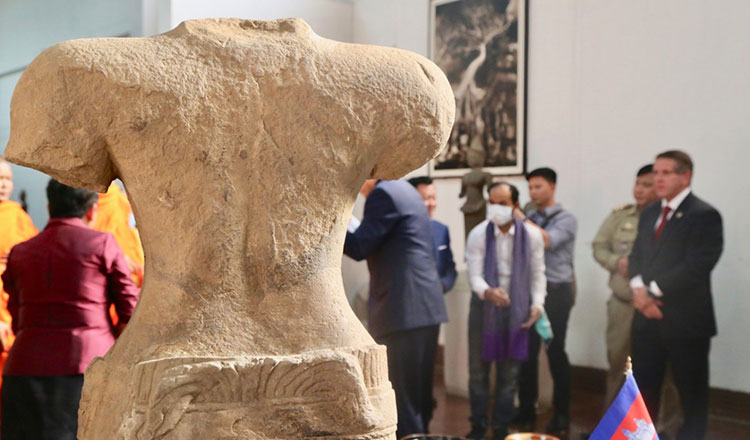 The first statue is an 11th Century sandstone Khmer statue torso of the Khleang style wearing a Khmer sampot, a traditional garment of Cambodia. The statue was an administrative seizure in 2017 when HSI San Francisco received information regarding the sale at an auction house in California. The auction house owner said the piece was imported in 1992 with a certificate of authenticity issued in Bangkok, Thailand, which identified the item as "Body of Khmer in Angkor Wat." The antiquity expert determined the statue had a fair market value of $75,000 USD.
The other statue, from the early 10th – late10th Century, is a large gray sandstone Khmer statue torso of an unidentified Deity. The item was a criminal seizure in September 2005 when the Department of Homeland Security (DHS), Customs and Border Protection (CBP) and HSI Los Angeles confiscated it from a partial shipment of goods that arrived in the United States from Thailand. Experts estimated the value of this statue at about $120,000 USD. US Embassy in Phnom Penh