Ancient Buddha statue pieces delivered to Apsara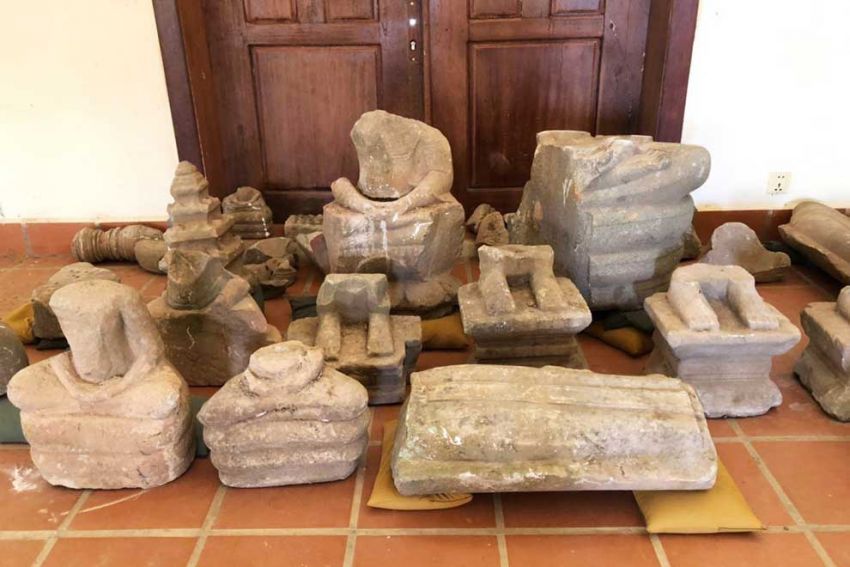 A pagoda chief monk in Siem Reap town has handed over 41 pieces from ancient statues to the Apsara National Authority (ANA) for safekeeping.
Some of the sculpture pieces presented by the chief monk of Preah Intep pagoda, Sem Sam, were from statues of Buddha sitting in the cross-legged throne of the lotus position.
Sam Sareth, office head at the ANA's Department of Conservation of Monuments in the Angkor Park and Preventive Archaeology, said on Wednesday the pieces will be preserved at the ANA office for registration, photography, file documentation and repair.
"I do not know much about the background of all these pieces of sculpture. We will store them and do research later," he said.
Chhouk Somala, the officer in charge of archaeological registration at the department who received the sculptures, could not be reached for comment on Wednesday.
But the ANA quoted him as saying on Wednesday that among the sculptures, a large number were of lotus-sitting Buddha statues while others were only foot standing on a pedestal.
He said that based on a preliminary examination, some of the statues were in the Bayon style from around the end of the 12th and early 13th century, while some were in the middle style dating around the 15th or 16th century.
Sam could not be reached for comment as to how the pieces came into his possession.
The ANA, however, said the pieces were originally scattered around the pagoda and some were at the back of the Intep Buddha statue.
Sam collected and stored the pieces in the shelter on the south side of the pagoda to prevent loss and damage.