CMAC signs cooperation with partners to clear mine fields in Kep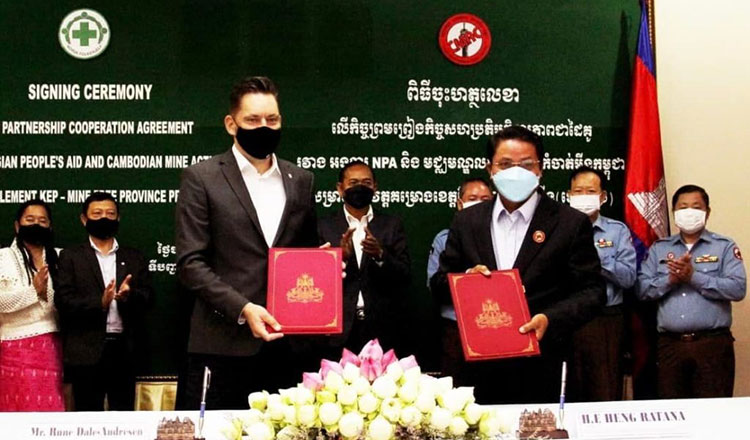 The Cambodian Mine Action Centre (CMAC) signed a cooperation with its partners to clear land mines in Kep.
On November 29, the Director General of CMAC, Heng Ratana, and President of Norwegian People's Aid (NPA) Cambodia, Randall Anderson, signed the "Kep Province Without Mines" at the CMAC Headquarters in Phnom Penh.
Currently in Kep, there are eight mine fields, measuring a total of 90 hectares. It is projected that it would take four months of work for all of them to be cleared of land mines and this would make Kep the first mine-free province in Cambodia.
Director Ratana said that the CMAC is ambitious to continue the task of clearing mine-affected areas and turning Kep into the first mine-free province. The CMAC also aims to clear mine fields in Kampot, Takeo, Kampong Speu, Preah Sihanouk, and Koh Kong one after another starting from 2022 onwards.
Director Ratana added that the CMAC continues to implement the Royal Government's National Strategic Plan in collaboration with Mine Authority and development partners. The ultimate goal is to end the threat of anti-personnel landmines by the end of 2025. Khmer Times