ASEAN-China relationship still relevant in spite of broader deals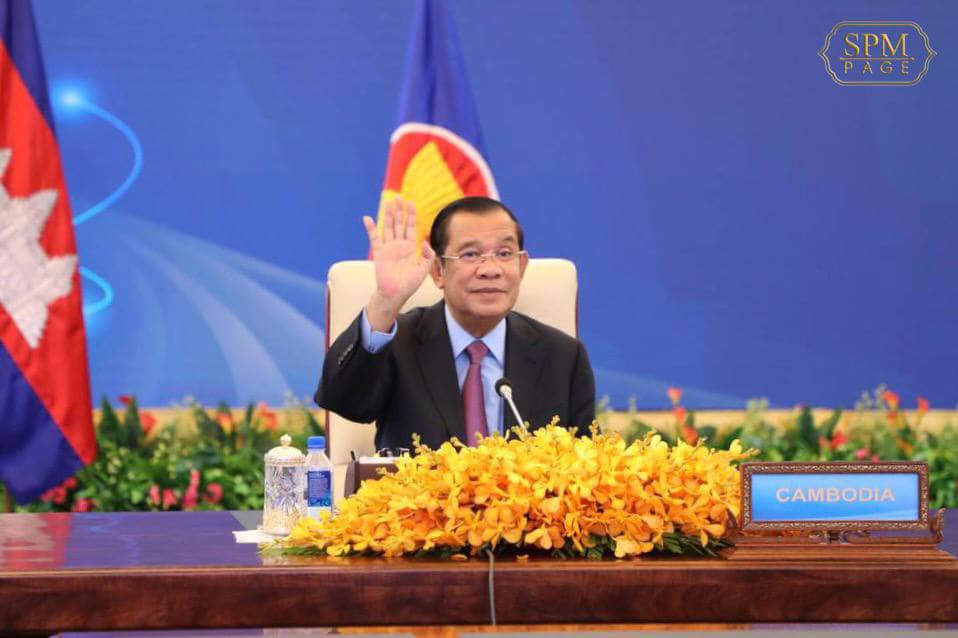 Prime Minister Hun Sen joined Chinese leader Xi Jinping at a virtual ASEAN-China summit yesterday, calling for relations to be elevated to the status of a Comprehensive Strategic Partnership. In spite of a free trade agreement between the two countries being ratified this year and next year's entry of the two into the broader Regional Comprehensive Economic Partnership (RCEP) the Cambodian leader says the ASEAN-China relationship still has a lot to offer.
Mr Hun Sen said he wanted to continue strengthening regional links in line with the ASEAN-China Joint Statement on Synergising the Master Plan on ASEAN Connectivity 2025 and Beijing's Belt and Road Initiative.
"As China has become one of the leading superpowers and been playing many increasingly important roles in the region and the world, while ASEAN has been playing a progressively broader role, ASEAN-China relations will become even more important, crucial, meaningful and fruitful for both regions as well as the whole world, especially in revitalizing and boosting socio-economic growth in the context of Covid-19," he said.
The US sent Commerce Secretary Gina Raimondo on her first tour of the region last, with stops in Japan, Singapore and Malaysia. She called on America's allies in the region to help draw up an Indo-Pacific Framework to strengthen supply chains, expand the digital economy and improve infrastructure. The US is not a member of RCEP and the CPTPP (the Comprehensive Progressive Agreement for Trans-Pacific Partnership), which China has asked to join. Raimondo said the new framework will not be a free-trade deal. Instead it will be a knowledge-sharing exercise with like-minded Asian nations, with talks due to start next year.
European nations will also get their chance to forge closer trade relations with ASEAN during this week's two-day Asia-Europe meeting.
China is still top of the list when it comes to trade and investment in ASEAN. China bought 14 percent of ASEAN's exports in 2019, with the US narrowly behind at 13 percent and the EU at 9 percent. In terms of ASEAN's exports, 22 percent went to China, with the US and EU tied at 8 percent each.
Hong Vanak, director of International Economics at the Royal Academy of Cambodia says the ASEAN-China summit has pros and cons.
"The advantage is that China-ASEAN trade volume will be strengthened and expanded, especially because all parties will agree to promote the economic recovery of their respective countries through China-ASEAN cooperation based on the China-ASEAN free trade agreement and bilateral agreements between ASEAN countries and China directly. It is important for all parties to promote such issues because Covid-19 has been affecting the economy of each country for the past two years, including China. Therefore, all parties will push for this," he said. "Trade volume between ASEAN and China has grown significantly and the countries that have benefited the most from all the agreements we see are the old ASEAN members, such as Malaysia, the Philippines, Singapore and Thailand. Of the new ASEAN members only Vietnam stands out with its bilateral China-Vietnam agreement. China is a global factory and needs to contact small and large countries alike in order to sell its goods and expand in ASEAN to increase production and exports," Vanak said.
On the downside he said many ASEAN nations have territorial disputes with Beijing and are concerned that it is trying to increase its military presence in the region.
" China is playing a greater role on the economic front to expand its economic power as its geopolitical influence is weaker," Vanak said. "But China will take action to preserve its reputation when it comes to territory adjacent to China such as the South China Sea. It will act to strengthen its geographical jurisdiction, both in terms of economic interests and in terms of history," he said.
As for investment, FDI from China into ASEAN has risen by 65 percent over the past decade, from an annual average of $6.9 billion in 2011–2015 to an annual average of $11.5 billion in 2016–2020.
Its contribution is dwarfed by the United States. The US was the biggest investor into ASEAN in 2019 at $34.6 billion, with China (including Hong Kong) third at $23 billion dollars. In 2020 US FDI increased to $34.7 billion with China and Hong Kong in second place at $19.6 billion.
ASEAN does not seem concerned that the creation of the broader RCEP agreement at the start of next year will have a negative impact on trade and investment.
"RCEP has the potential to help member states attract intraregional investment, FDI and GVC [global value chain] activities," it said in the ASEAN Investment Report 2020–2021. "The agreement contains measures in key areas such as market access, economic cooperation, and rules and disciplines. The specific provisions on investment could enhance investment opportunities in the long term, but the provisions related to trade in goods and services, intellectual property and e-commerce could help to increase flows of investment in the short term by facilitating the exchange of goods and services, and by lowering transaction costs for business. Although the agreement promotes intra-RCEP trade, investment and services, non-RCEP companies can also take advantage of RCEP benefits by locating and operating in the region," it said. Khmer Times