The commerce minister reaffirms trade cooperation with Singapore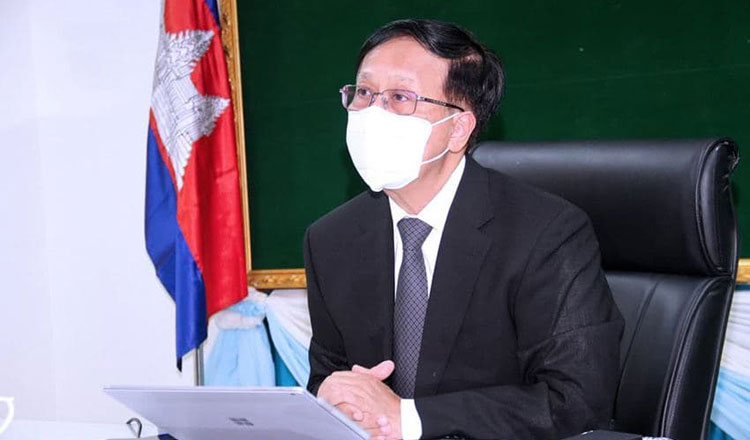 Cambodia and Singapore have reaffirmed their commitment to continue strengthening cooperation on trade and investment. Commerce Minister Pan Sorasak held a videoconference with Singapore's Trade and Industry Minister Gan Kim Yong on Tuesday.
They also discussed progress in ratifying the Regional Comprehensive Economic Partnership (RCEP) between Association of Southeast Asian Nations (ASEAN) members Cambodia, Singapore, Thailand, Vietnam, Malaysia, Myanmar, the Philippines, Brunei, Indonesia and Laos. RCEP is also set to include Australia, China, Japan New Zealand and South Korea, creating the world's biggest free-trade bloc.
Members are hoping to ratify the deal next year when Cambodia will be the chair of ASEAN. Sorasak, who is also ASEAN Economic Minister for Cambodia, stressed the Kingdom's readiness to chair the group for the third time and host meetings between member states. He told Gan what Cambodia has been doing to prepare for next year, including the compilation of key documents on ASEAN's main economic achievements and Cambodia's contribution. Gan voiced his support and said Singapore would cooperate closely with Cambodia.
Sorasak suggested the two countries should focus on economic recovery following the height of the Coronavirus pandemic. The two countries have the highest vaccination levels in Southeast-Asia. Cambodia has fully vaccinated more than 70 percent of its population of more than 16 million. Singapore has double-jabbed around 80 percent of its 6 million residents.
Sorasak said Cambodia and Singapore should ensure the continued flow of goods, match the two countries' businesses, strengthen e-commerce and build regional supply chains. He also asked Singapore to increase its investment in the Kingdom.
Bilateral trade between Cambodia and Singapore reached $4.2 billion last year. Singapore's investments in Cambodia reached $1.29 billion between 1994 and 2020.
Cambodia wants Singapore to buy more of its agricultural exports, including Kampot pepper, Kampong Speu palm sugar, Koh Trong pomelos, mangoes and milled rice.
Cambodia's imports from Singapore include oil, machinery, food and beverages, paper, precious stones and electronic equipment.
Cambodia and Singapore established diplomatic relations on Sept 15, 1965. Last year, the two marked the 55th anniversary of their diplomatic ties with various cultural programmes. Khmer Times