Sokhonn welcomes Brunei minister's appointment as Asean envoy to Myanmar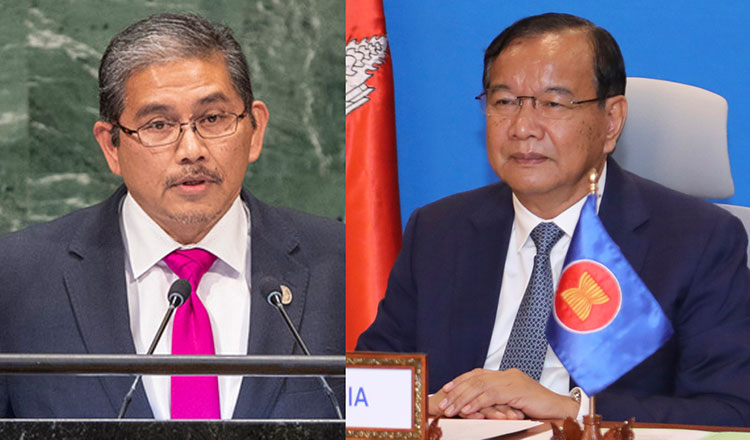 Foreign Affairs Minister Prak Sokhonn yesterday lauded the appointment of Brunei Darussalam's second Foreign Minister Dato Erywan Pehin Yusof as the Special Envoy of the ASEAN Chair on Myanmar to ensure peace, stability and the country's return to normalcy.
He voiced his support yesterday during a bilateral meeting held online with Erywan.
Sokhonn also congratulated Brunei for successfully organising the recently-concluded 54th ASEAN Foreign Ministers Meeting and related meetings within the framework of Asean, during which Erywan was appointed the special envoy.
During yesterday's meeting, the two sides exchanged views and suggestions to better implement the five-point consensus reached by Asean leaders in April.
"I also reiterate my strong support for his (Erywan's) mission and for Asean's joint efforts to ensure peace, stability and return to normalcy of Myanmar, as well as its interests," said Sokhonn.
Myanmar has been in upheaval since Senior General Min Aung Hlaing ousted an democratically-elected government led by democracy champion Aung San Suu Kyi, with security forces killing 728 people, according to an activist group tally, in an attempt to stamp out protests.
In a bid to resolve Myanmar's political crisis sparked by the February military coup, Indonesia hosted an Asean leaders' summit in Jakarta on April 24. Myanmar's coup leader, Sen Gen Min attended.
Myanmar's neighbours have been trying to encourage talks between the rival sides to resolve the crisis but the military has shown little willingness to engage with them or talk to the ousted government.
Asian Vision Institute president Chheang Vannarith told Khmer Times yesterday that the Myanmar political crisis is affecting the whole region. He said Asean is compelled to respond and find appropriate solutions to the crisis. It is a matter of survival and relevance of Asean.
He added that the Asean special envoy led by Brunei will play a crucial role in creating an atmosphere for political dialogue between and among different political groups in Myanmar. Inclusive political dialogue is necessary.
"Cambodia as the chair of Asean next year will continue to maintain the momentum of Asean's constructive engagement in the Myanmar issue," he said.
Dato Erywan was appointed Special Envoy of the ASEAN Chair on Myanmar on August 4.
The foreign ministers from the grouping said Erywan will begin his work in Myanmar to "build trust and confidence with full access to all parties concerned," The Washington Post had reported then.
The 10-nation bloc has been under increasing international pressure to act on the violence and instability in fellow Asean member Myanmar.
At the end of their meeting in Jakarta, the Asean foreign ministers reiterated their concerns about the situation in Myanmar, including reports of fatalities and violence. But they stopped short of calling for the release of political detainees," the Post had reported.
Sidharto Suryodipuro, head of ASEAN Cooperation at Indonesia's Foreign Ministry, has reportedly told reporters in Jakarta that it was an arduous process to persuade Myanmar to commit to the envoy and the mediation process. He said Erywan is expected to draw up a timeline on his mission to ease the violence and meet with all parties involved.
Dato Erywan Pehin Yusof (L), Second Minister of Foreign Affairs, and Foreign Affairs Minister Prak Sokhonn. Khmer Times