Kingdom expects 100,000 tonnes of fresh mango shipments to China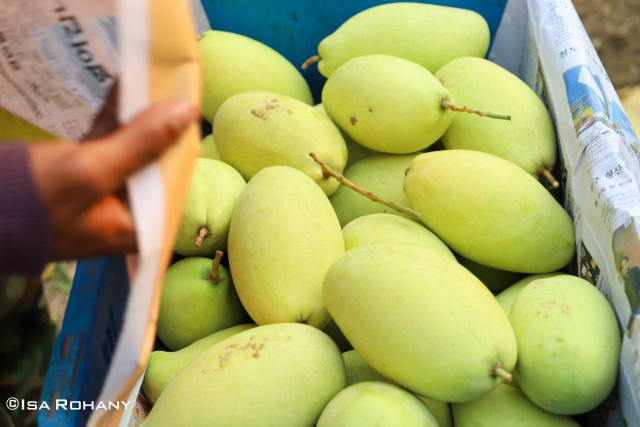 Cambodia has set an ambitious target of exporting up to 100,000 tonnes of fresh mangoes a year to China after the Kingdom made the first shipment of the fresh fruit directly to the world's second largest economic nation on Friday.
The Ministry of Agriculture, Forestry and Fisheries (MAFF) is the driving force behind the exports, boosting planting for quality standards to meet the demand and requirements in China's massive market.
MAFF Minister Veng Sakhon said during the official ceremony marking the shipments that the capacity of plantation and packing facilities are able to boost exports of the sweet fruit to China to at least 100,000 tonnes a year.
Mango yields in Cambodia amount to around 1.6 million tonnes per year, he said.
"Based on the total yield of fresh mangoes and the capacity of packing facilities, the amount of fresh mango exports to China will, we expect, increase to around 100,000 tonnes a year," he said.
The scores of 37 mango plantations and five packaging plants registered for exporting fresh mangoes to China have been officially recognised by the General Administration of Customs of the People's Republic of China.
The first shipment exported by the five recognised companies amounted to 100 tonnes.
Cambodian fresh mangoes are the second fresh fruit, after fresh bananas, that can be exported directly to China.
This is another fruitful achievement made through the good cooperation between the Kingdom of Cambodia and the People's Republic of China, MAFF said.
The average retail price of fresh mangoes in China is $1.30 per kilogramme, according to data from www.globalprice.info.
Wang Wentian, Chinese ambassador to Cambodia, said that the direct shipment of Cambodia's fresh mangoes to China reflects the comprehensive cooperation between the two countries.
"The comprehensive cooperation of the two countries in all fields, particularly in the agriculture sector, has been positive and has made remarkable progress. For example, the export of bananas from Cambodia to China has increased annually," Wang said.
Cambodia's fresh mango exports will have the same success as bananas in the near future in China's market, he said.
Beside China, Cambodia's fresh mangoes are exported to the neighbouring countries of Thailand and Vietnam as well as South Korea and European Union nationss.
In the first four months of this year, Cambodia shipped 140,000 tonnes of fresh mangoes to various foreign markets.
Cambodia has a total mango plantation of 130,000 hectares with at least 1.6 million tonnes of fresh mangoes being produced each season. Khmer Times