Phnom Penh Logistics Complex plans press forward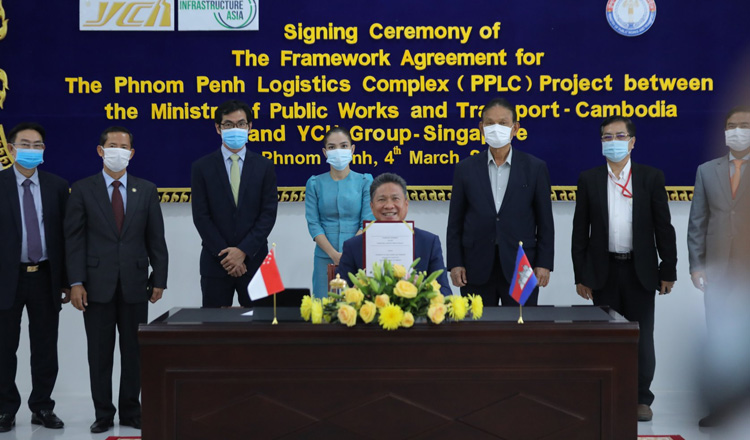 With Cambodia's $200 million Phnom Penh Logistics Complex (PPLC) set to break ground in 2022, stakeholders met in Singapore to discuss the financing of the integrated port, training academy, start-up hub and operations centre.
The project is slated to be the second under the ASEAN Smart Logistics Network which aims to integrate the economic bloc by 2025, when PricewaterhouseCoopers forecasts that intra-region trade could exceed $375 billion per year. The International Monetary Fund projects that Cambodia's exports will grow to $23.72 billion by 2025 from approximately $15 billion in 2020.
The Kingdom's logistics infrastructure has been in desperate need of an upgrade with the World Bank ranking Cambodia 98th in the world based on six metrics: customs clearance, infrastructure, international shipments, logistics competence, tracking and tracing, as well as timeliness.
A total of 30 stakeholders and potential investors, including the likes of the International Finance Corporation, Silk Road Fund, China Construction Bank and DBS Bank, met on Tuesday to discuss the funding of the project. This followed the inking of a framework signed last month between Singapore-based YCH Group – the firm charged with developing PPLC – and the Ministry of Public Works and Transport
"There is increasing competition from regional trading blocs and emerging large economies. This step will further boost the region's productivity and competitiveness," Anthony Galliano, group chief executive officer (CEO) of corporate finance firm Cambodian Investment Management, told Khmer Times.
Noting that YCH Group had also built a smart logistics hub in Vietnam, Galliano, who is also president of the American Chamber of Commerce, said YCH Group choosing Phnom Penh as its next project "is a testament to the Kingdom's economic progress and track record".
"Expectations are [that] trade flows to and through Cambodia will increase once the Phnom Penh Logistics Complex is operational. The logistics hub will feature the latest technology and will strengthen the Kingdom's connectivity with broader intra-regional trade flows and is part of the greater initiative for a seamless, comprehensively connected and integrated ASEAN," he added.
YHC Group Chairman Robert Yab told The Straits Times newspaper that his firm was attracted to the Kingdom because of its strong gross domestic product growth and future potential.
"Cambodia's logistics infrastructure is not that well developed today, which is why many multinational companies' distribution centres are in other countries such as Thailand or Vietnam," he explained.
"Having consulted some of our customers running supply chains in ASEAN, I think they would put their distribution facilities in Cambodia if the country were to have a world-class standard of infrastructure. So this is an opportunity for Cambodia to be in the game," he added
Earlier this month, Public Works and Transport Minister Sun Chanthol presented the PPLC as an investment opportunity to some 50 international and local firms.
Chanthol highlighted that the project would encompass a number of road improvements, including 34 in Preah Sihanouk province, 38 in Siem Reap, as well as the roadways from Battambang to Koh Kong, Battambang to Siem Reap and Kampong Chhnang to Kampong Thom provinces.
"The PPLC is a strategic logistics project located in the centre of the country and is to support the distribution network and serve as an intermodal connecting point, with all modes of transportation – such as roads, rails, even waterways and air transport – within 10 kilometres from the city centre," Chantol said previously.
The PPLC is a part of a larger initiative to bolster the Kingdom's logistics network. In May 2020 it was announced that China Good Cars Holding Ltd would invest $160 million in a new heavy vehicle terminal on the outskirts of Phnom Penh. US-based courier service FedEx also announced plans to launch air freight services to the Kingdom last year. Khmer Times