Restoration begins for uncovered Angkor Wat artifacts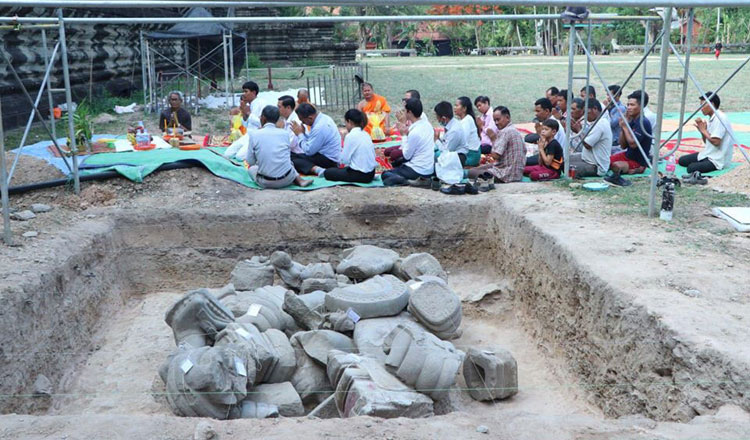 The Apsara Authority has begun the restoration of relics previously found in excavation pits in Siem Reap province's Angkor Wat temple.
Long Kosal, spokesman for the Apsara Authority, yesterday said 105 pieces from disfigured Buddha statues, 180 smaller pieces from unidentified relics and temple foundations were discovered continuously by the authority's archaeological experts since April while working on the implementation of Angkor's irrigation system.
On Tuesday, the Apsara Authority held a religious ceremony to remove the pieces of relics from the excavation pit and start the reconstruction of process, as well as to conduct research on the nature of the uncovered artifacts.
"We have not yet identified what the other 180 pieces are. For now, we're transporting those pieces to the museum to start the restoration process," said Mr. Kosal.
Speaking during the ceremony, Apsara Authority director-general Hang Pov said one of the disfigured statues with the least damage will be repaired and returned to the temple after permission from the International Coordinating Committee for the Safeguarding and Development of the Historic Site of Angkor.
"The Buddha statue fragments clearly came from the gallery of the Angkor Wat Temple, which was probably from the medieval ages [16th or 17th century]," he said.
Srun Tech, the Apsara Authority's excavation project manager at the Angkor Wat Temple, recently said archaeological experts also found other relics buried underground.
He noted that by looking at the soil layers, the neat way by which the artifacts were buried indicates an intent to stow away the items from notice.
"The discoveries prove that the Angkor Wat Temple is still a valuable target for further studies. The temple remains surrounded by mysteries that researchers would have to further uncover," he said.
In late March, the Apsara Authority's working team accidentally unearthed a wooden structure of over 1,000 years of age and a Ganesh statue at the center of the Angkor Wat Temple's northern pond while experts were restoring the pond.