WB Committed to Continue Close Cooperation with Cambodia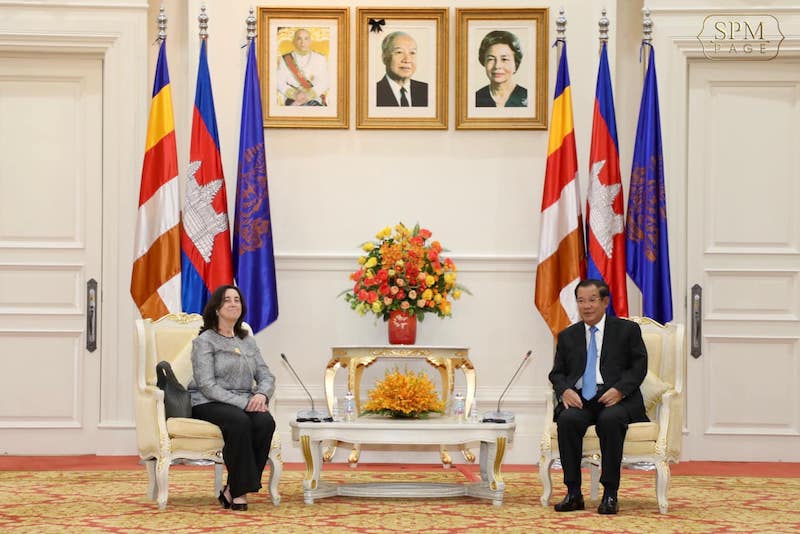 The World Bank is committed to continue its strong and close cooperation with the Royal Government of Cambodia, said visiting Ms. Manuela V. Ferro, the World Bank Vice President for East Asia and Pacific (EAP) while paying a courtesy call on Cambodian Prime Minister, at the Peace Palace in Phnom Penh this afternoon.
According to H.E. Eang Sophalleth, Assistant to Samdech Akka Moha Sena Padei Techo Hun Sen, Prime Minister of the Kingdom of Cambodia, during the courtesy meeting, Ms. Ferro also reaffirmed the World Bank's precise stance to support Cambodia in its energetic step toward an upper middle-income economy.
Besides, she highly valued Cambodia's successful efforts in responding to COVID-19, especially its vaccination rate, one of the highest in the Asia-Pacific region, resulting in the Kingdom's full reopening since November 2021.
For his part, Samdech Techo Hun Sen briefed Ms. Manuela V. Ferro on Cambodian COVID-19 vaccination policy, stressing that the vaccination has saved not only Cambodians' lives, but also the country's economy.
The Premier thanked the World Bank for its good cooperation and partnership with Cambodia, and suggested the bank to promote the partnership and boost the doable projects in order to contribute to the Cambodian economy.
Concerning ASEAN, the Premier said what he wanted as the chair of the bloc is that ASEAN member countries create a favourable condition in complementing to each other under the framework of AFTA (ASEAN Free Trade Area) and ASEAN+5, and the good flow of travel through the ASEAN Travel Corridor. AKP