RCEP Set to Boost Cambodia Exports by 9-18% Yearly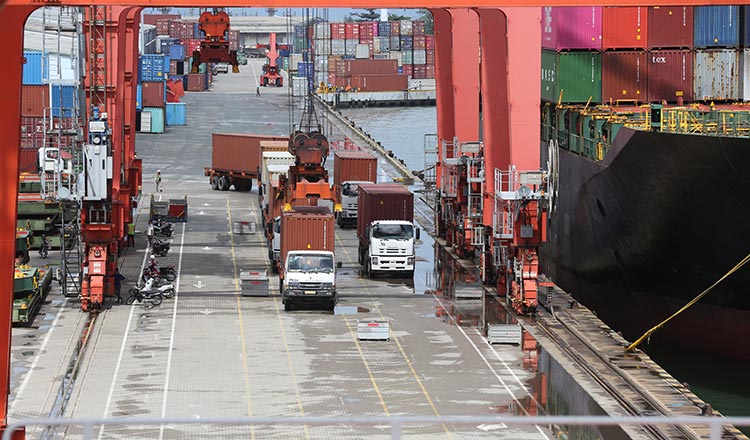 The Regional Comprehensive Economic Partnership will boost Cambodia's export by 9.4 percent to 18 percent yearly, contributing to up to 3 percent annual economic growth.
Minister of Commerce Pan Sorasak made the remarks in a workshop on Comprehensive Economic Partnerships, Regional Consequences, Challenges and Future Economic Growth for East Asia and ASEAN on Monday.
The latest study by the Economic Research Institute for ASEAN and East Asia (ERIA) shows that the Kingdom's export is expected an increase by at least 9.4 percent yearly under the RCEP agreement, he said.
The figure was adjusted to the figures of 7.2 made in 2014 by the ERIA, he said.
"Under the RCEP agreement, Cambodia will see a year's export growth at 9.4 percent to 18 percent, which will contribute to the national economic growth from 2 percent to 3.8 percent," Sorasak said.
Signed on November 15, 2020, and entered into force on January 1, 2022, RCEP is a mega trade agreement between 10 ASEAN member states (Brunei, Cambodia, Indonesia, Laos, Malaysia, Myanmar, the Philippines, Singapore, Thailand and Vietnam) and its five major trade partners such as China, Japan, South Korea, Australia and New Zealand.
RCEP covers approximately 30 percent of the world's population, accounts for about 30 percent of global gross domestic product, and represents some 28 percent of global trade.
After it took effect, more than 90 percent of merchandise trade among members who approved the accord will eventually be subject to zero tariffs.
The pact also creates other positive effects, including providing opportunities for redevelopment from the Covid-19 pandemic and post-pandemic structural evolution through job opportunities, investment promotion, and poverty reduction, Sorasak said.
ERIA president Hidetoshi Nishimura said in the workshop that for ASEAN and East Asia, the Regional Comprehensive Economic Agreement is a trade agreement and a catalyst
for regional economic recovery during and after the Covid-19 crisis.
"The Regional Comprehensive Economic Agreement is expected to play an important role in regional integration and recovery in and after the Covid-19, as outlined in the ERIA RCEP book," Hidetoshi said.
The Regional Comprehensive Economic Partnership, Consequences, Challenges and Future Economic Growth for East Asia and ASEAN aims to promote challenges, mechanisms, commitments and other technical aspects with discussions by national experts and international researchers on the relationship between the agreement and the regional-global trade model, with the participation of officials from inter-ministerial embassies, national and international institutions and the private sector. Khmer Times