Cambodia calls for zero terrorism in Asean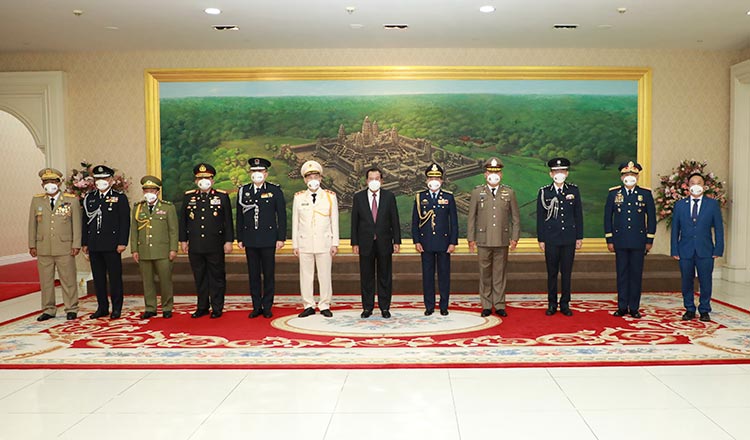 Prime Minister Hun Sen, the ASEAN Chairman for 2022, has told ASEAN chiefs of national police (ASEANAPOL) to collaborate and make the bloc a zero terrorism zone.
Mr Hun Sen spoke highly of the cooperation of ASEANAPOL, which can prevent crimes in the bloc, Eang Sophalleth, the prime minister's assistant, said yesterday.
"In the courtesy call with the delegation of ASEANAPOL at the Peace Palace in Phnom Penh this morning, the Prime Minister encouraged ASEANAPOL to further enhance cooperation to turn ASEAN into a zero-terrorism zone", he said.
Mr Hun Sen also encouraged the ASEANAPOL police chiefs to share experience and information and turn themselves into ambassadors to strengthen and expand relations and boost trade between the member countries.
The Prime Minister also expressed his thanks to the ASEANAPOL delegation for their presence at the 40th Conference of ASEANAPOL physically in Phnom Penh in light of Covid-19, saying that this participation will significantly contribute to the success of the conference.
Regarding this, the ASEANAPOL delegation expressed their commitment and to do their best to transform the bloc into an area of cooperation, harmony, stability and peace.
Cambodia is hosting the 40th ASEANAPOL Conference from until Saturday. This annual gathering of Asean police chiefs is very important for linking and enhancing partnership, cooperation and mutual assistance, especially in responding to the current global public health concern and in promoting peace, stability, security and public order.
In the conference, ASEANAPOL delegations have expressed their commitment to improve the existing cooperation in fighting cross-border crime.
Minister of Interior Sar Kheng said on Wednesday the Asean region, is struggling to get out of the Covid-19 pandemic and in this situation, all police officers in the region have to ensure peace, political stability, security and social order which are the prerequisites for the development and prosperity of the bloc.
ASEANAPOL is the multinational police force of Asean. It was established by the chiefs of police of its members in Manila, Philippines in 1981.
Cambodia became the 10th country to join ASEANAPOL in 2000. It mutually contributes and synergise policing resources and expertise for a safer ASEAN Community. Khmer Times