Cambodian Delegation Attends The 37th ASEAN Summit And Related Summits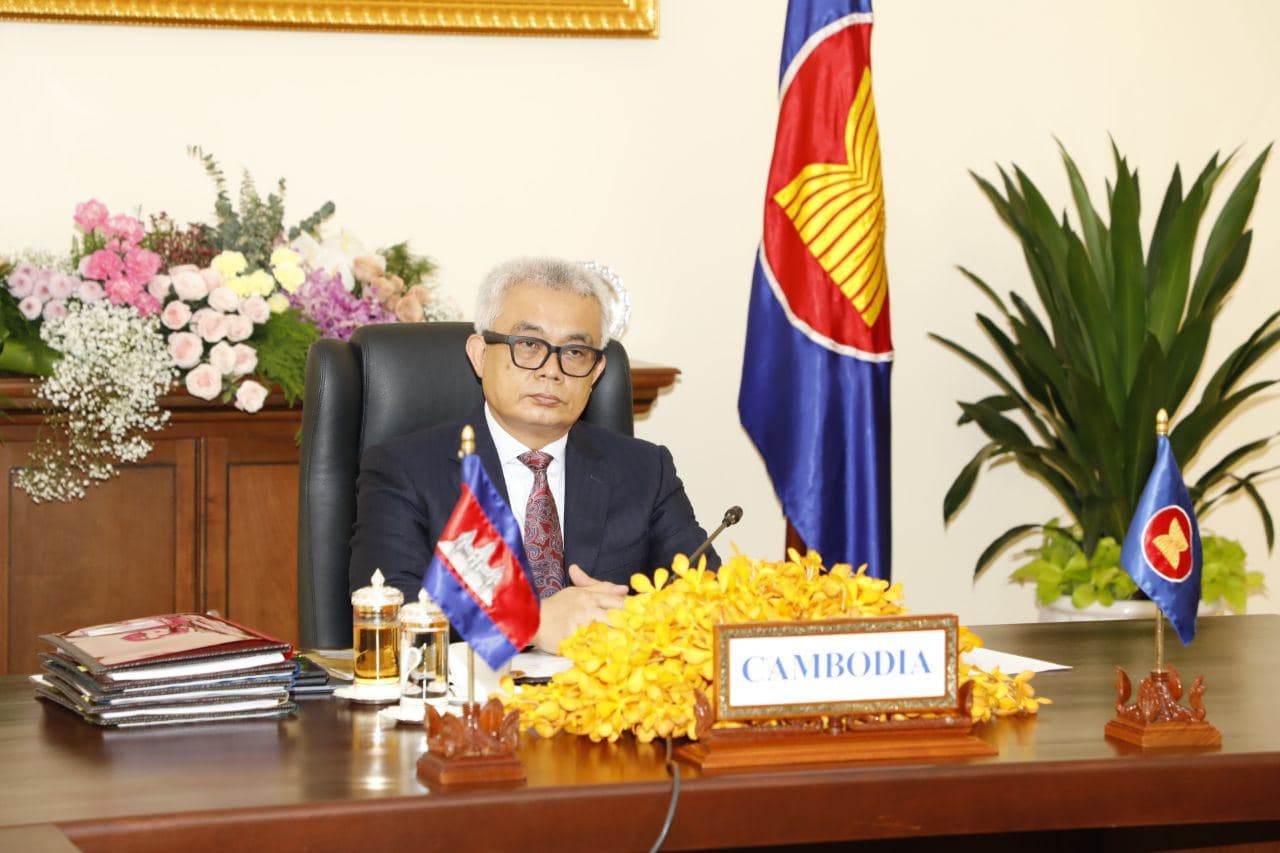 High-level delegation of the Royal Government of Cambodia led by H.E. Dr. Aun Pornmoniroth, Deputy Prime Minister and Minister of Economy and Finance, attended the 37th ASEAN virtual Summit and Related Summits hosted by Vietnam.
In his speech, H.E. Dr. Aun Pornmoniroth reaffirmed Cambodia's position on cooperation, solidarity, liberalisation and multilateral mechanism.
According to a press release from the Ministry of Economy and Finance, on behalf of the Kingdom of Cambodia, H.E. Dr. Aun Pornmoniroth emphasised Cambodia's strong commitment to ASEAN's common vision of achieving common integration with strength and prosperity through cooperation, solidarity, trade globalisation and multilateralism.
The 37th Summit also approved the mid-term review of the ASEAN Community 2025, the ASEAN Comprehensive Rehabilitation Framework and the ASEAN Regional Reserve of Medical Supplies.
Under the theme of ASEAN Cohesion and Response", the summit focused on the impact on public health and socio-economic impact of countries in the region caused by the COVID-19 pandemic, and so on, it added.
The summit is also an important forum for ASEAN leaders and all stakeholders to exchange views and provide input on key regional and global issues, as well as to further enhance and expand cooperation in order to strengthen the spirit of multilateralism and maintain the neutrality of ASEAN.
According to a press release of the Cambodian Ministry of Foreign Affairs and International Cooperation H.E. Dr. Aun Pornmoniroth and his delegation will also attend the 23rd ASEAN-China Summit, 23rd ASEAN-Japan Summit, 21st ASEAN-ROK Summit, 8th ASEAN-U.S. Summit, ASEAN-New Zealand Leaders' Summit, ASEAN-Australia Leaders' Summit, 23rd ASEAN Plus Three (APT) Summit, 15th East Asia Summit, 11th ASEAN-UN Summit, 17th ASEAN-India Summit, and 4th Regional Comprehensive Economic Partnership (RCEP) Summit.
H.E. Deputy Prime Minister will also participate in the ASEAN Women Leaders' Summit, where H.E. Dr. Ing Kantha Phavi, Minister of Women's Affairs, will deliver an address on "Women's Role in Building a Cohesive, Dynamic, Sustainable and Inclusive ASEAN Community in a Post-COVID World", the 12th Mekong-Japan Summit, the 2nd Mekong-ROK Summit, and ASEAN Plus Three Leaders' Interface with Representatives of East Asia Business Council, which will be held in occurrence with the 37th ASEAN Summit.