Cambodia, Japan Laud Strong Bilateral Relations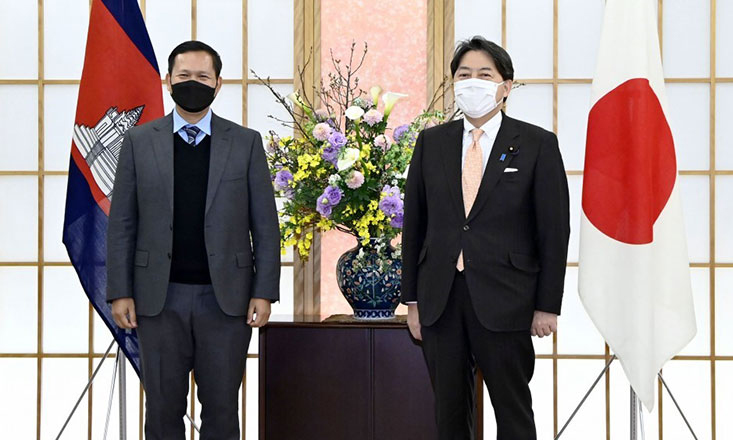 Japan and Cambodia share strong relations and are working closely together on the issues of the international community such as the situation in Myanmar.
The remark was made during the courtesy meeting early this week in Tokyo, Japan between Lt. Gen. Hun Manet, Deputy Commander-in-Chief of the Royal Cambodian Armed Forces (RCAF) and Commander of the Royal Cambodian Army and H.E. HAYASHI Yoshimasa, Minister for Foreign Affairs of Japan, according to a press release of the Japanese Ministry of Foreign Affairs.
H.E. HAYASHI Yoshimasa expressed his appreciation to Cambodia's support to "Free and Open Indo-Pacific" and also expressed his intention to further strengthen cooperation between the two countries, including in the field of security, taking advantage of the opportunity presented by Commander Hun Manet's visit to Japan.
The Japanese foreign minister stated that Japan-Cambodia relations are developing strongly, while touching upon the COVID-19 related assistance extended by Japan to Cambodia including the provision of approximately 1.3 million vaccine doses and a total of 45 billion yen in yen loans.
In addition, Minister Hayashi expressed Japan's intention to cooperate with Cambodia to ensure that Cambodia's commune elections this June and its general election next year will be held in a way that reflects the diverse voices of the Cambodian people.
For his part, Lt. Gen. Hun Manet expressed his gratitude for Japan's contribution to Cambodia's peace process, reconstruction, and economic development, as well as his intention to exert every effort to strengthen relations with Japan.
Both sides also exchanged views on regional affairs, and H.E. HAYASHI Yoshimasa expressed his intention to continue to coordinate with Cambodia in responding to the situation in Myanmar, the South China Sea issue, and North Korea.
They shared the view to cooperate toward the 70th anniversary of the establishment of diplomatic relations between Japan and Cambodia as well as the 50th anniversary of ASEAN-Japan Friendship and Cooperation in 2023.
A high-level delegation of the Royal Cambodian Army led by its Commander H.E. Lt. Gen. Hun Manet has been currently on a four-year official visit in Japan since Feb. 14, at the invitation of the Government of Japan, when the two countries are celebrating the 30th anniversary of Japanese Peacekeeping Operations (PKO) in Cambodia. AKP