Japanese offer tech expertise to help farmers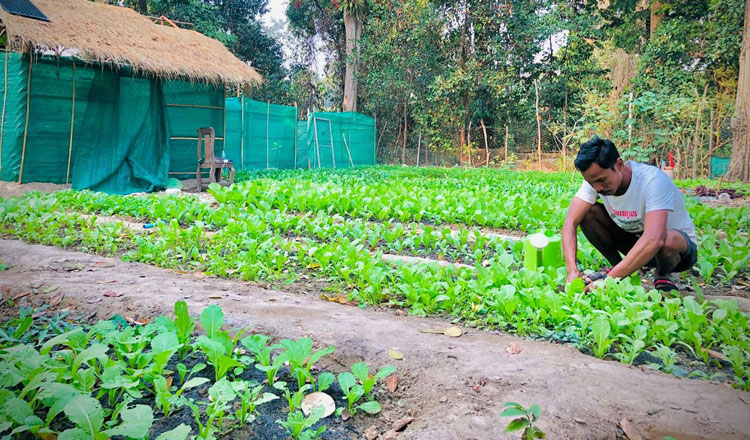 Cambodia and Japan have agreed to work together developing the Kingdom's tourism sector with a focus on attracting visitors to farms and selling them locally grown produce.
Tourism Development Department Director General Thong Rathsak met Hiroyuki Tokito and Naoya Okada, tourism representatives from the Japanese embassy in Phnom Penh, this week. They agreed to encourage more visitors to Cambodia through promoting the country as a travel destination and supporting each other's vaccination programmes with an eye to a possible quarantine-free travel corridor between the two nations.
The three also discussed developing education initiatives such as scholarships and online training and natural resource management.
Rathsak, Tokito and Okada also talked about agro-tourism opportunities in Cambodia. The two countries recently agreed to sign a memorandum of understanding (MoU) between Yamato Green and the Cambodian Agricultural Community Alliance.
Agriculture Minister Veng Sakhon and Japanese Embassy's Deputy Chief of Mission Atsushi Karimata agreed on the MoU on a "Partnership on Development of Vegetable Production Values". Japanese Embassy's Deputy Chief of Mission said the Kingdom's agricultural sector has a lot of potential to create jobs, generate income, train farm workers and utilise Japanese agricultural technology.
Yamato Green is a Japanese company based in Phnom Penh that uses Japanese technology to improve farming in Cambodia, raise food quality and safety and promote local produce overseas, starting with Japan. It focuses on technology for greenhouses and harvesting.
The company says it uses the Internet of Things (IOT) to add to the food value chain. The IOT utilises sensors and other technology embedded in equipment to allow it to communicate with other devices and share information with its operators. In farming that can mean detecting water and mineral deficiencies in soil and turning on sprinklers and fertilisation devices remotely.
Cambodia already has a number of agro-tourism initiatives including a company offering farm stays in Siem Reap. Agro-Tourism Cambodia's Facebook page says the company "brings tourism and agriculture together in an innovative model of regional development." The company says it is committed to ensuring direct economic benefits for the local community, while contributing to both cultural and environmental improvement.
There is also an agro-tourism initiative in the Banteay Srei district of Siem Reap. "Agri-Tourism, Banteay Srei, a beautiful land" began this year, aiming to encourage visitors to buy produce directly from farms. It plans to include all communes in the district and offer tourists fruit such as watermelons, mangoes and durians along with fish, meat and honey.
Farming is key to the Kingdom's economic growth, contributing nearly 23 percent to gross domestic product last year. The government says agriculture will add an extra 1.6 percent to the economy in 2021. Agriculture accounts for 3 million jobs – one third of the country's workforce. The main products are rice, cassava and livestock. Fruit growing is gaining increasing importance thanks to a free trade deal signed last year with China. The Kingdom now exports bananas and mangoes directly to China, rather than via Vietnam, as it did in previous years. Khmer Times