Cross-border trade with Cambodia jumps 16.63 percent to 144.9 billion baht in 2021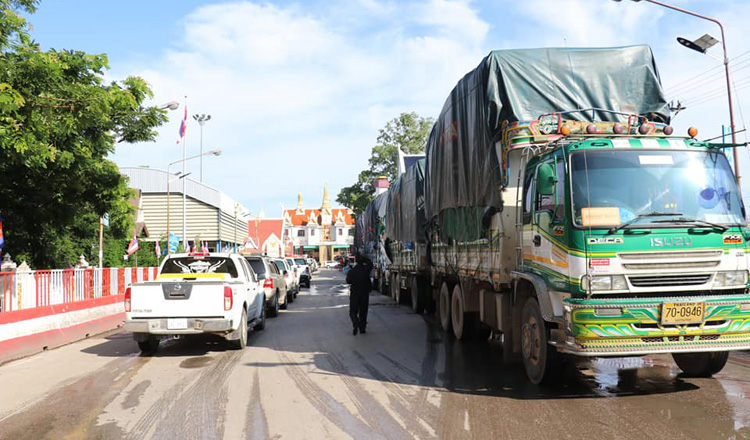 Cross-border trade in 2021 between Thailand and Cambodia expanded by 16.63 percent to 144.9 billion bhat last year, am amazing achievement despite the borders being closed significantly last year.
Overall, Thailand's cross border trade grew 30 per cent compared to the previous year, the Commerce Ministry reported last week, while setting a target of 5-7 per cent growth for 2022.
"The total trade of 1.71 trillion baht in 2021 represented a rise of 30.03 per cent, with exports rising 34.6 per cent to 1.03 trillion baht and imports up by 23.7 per cent to 684 billion baht," said Commerce Minister Jurin Laksanawisit.
"The cross-border trade in 2021 has overwhelmingly exceeded the ministry's target of 6 per cent expansion by five times," he pointed out.
"This year we estimate the trade volume will continue to grow within the range of 5 to 7 per cent year on year. Exports are expected to amount to 1.08 trillion to 1.1 trillion baht," Jurin said.
He said the factors that would contribute to an expansion in cross-border trade in 2022 include the continued recovery of global and regional economies from the impact of Covid-19, the weakening baht that would increase product price competitiveness, and the use of the newly opened China-Laos railway that would greatly help in transportation of farm products from Thailand to Vientiane and Chongqing – two of the biggest markets for agricultural products.
When divided by countries, the values of cross border trade with foreign neighbors are as follow:
Laos recorded 417.73 billion baht trade volume in 2021, increasing 39.31 per cent year on year
Malaysia recorded 346.6 billion baht, increasing 42.6 per cent
Cambodia recorded 144.9 billion baht, increasing 16.63 per cent
Myanmar recorded 122.08 billion baht, increasing 109.24 per cent
China recorded 194.82 billion baht, increasing 59.71 per cent
Singapore recorded 53.85 billion baht, increasing 51.49 per cent
Vietnam recorded 46.3 billion baht, increasing 5.03 per cent
"To further facilitate cross-border trade, the ministry will continue to work with government agencies and the private sector, both domestic and overseas, to locate potential buyers in new markets," Jurin said.
"Furthermore, this year we expect to reopen more border checkpoints that had been shut to prevent Covid-19 from spreading."
Of the 97 checkpoints that Thailand shares with Malaysia, Myanmar, Laos and Cambodia, only 48 are now open for cross-border trade. Jurin said he planned to reopen at least 12 more this year; four checkpoints are in Nong Khai, two in Chiang Rai, while Loei, Nakhon Phanom, Mukdahan, Ubon Ratchathani, Trat and Sa Kaeo have one checkpoint each.
"The ministry will continue to closely monitor the two risk factors that could hinder the expansion of cross-border trading: one is the situation now that the more transmissible Omicron is a major variant found in Thailand and neighbouring countries, and the other is the economic/political situation in Myanmar, especially the import control policy that aims to reduce the country's deficit balance," Jurin added. The Nation/Ministry of Commerce, Thailand/Khmer Times