A new platform to promote research and development and knowledge transfer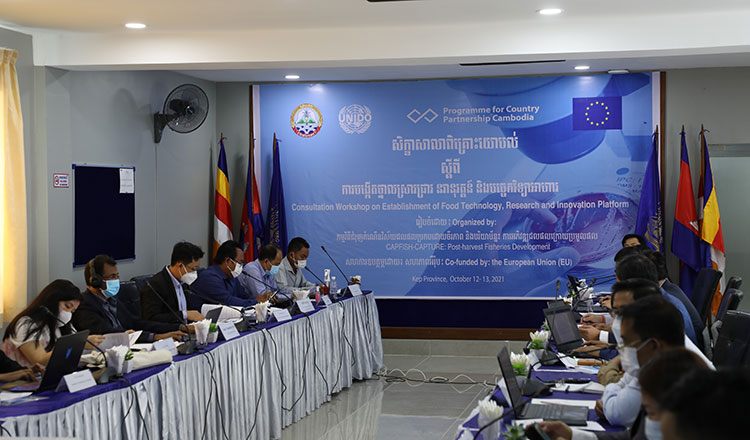 A Food Technology, Research, and Innovation Platform is to be set up to promote research and development, knowledge transfer, and enhanced collaboration between the post-harvest fishery production sector and higher education institutions.
The European Union supported initiative also aims to build a research and innovation ecosystem in Cambodia.
To initiate the establishment, a two-day discussion was held on Tuesday and yesterday headed by CAPFISH Project of the United Nations Industrial Development Organization (UNIDO ) with representatives from higher education institutions, the private sector, officials from the Fisheries Administration, and the Ministry of Industry, Science, Technology and Innovation.
One of the participants, Director General of the Fisheries Administration Poum Sotha said that the Food Technology, Research, and Innovation Platform will help shape a promising future for the fishery sector.
"It is a critical moment for us to work closely together to lay the foundation for this new Platform that we all want for the future of our research and innovation and fishery post-harvest production," he added.
According to UNIDO, the initiative is essential and very much aligned with key policies and strategies of Cambodia.
UNIDO Country Representative to Cambodia Sok Narin said that despite the fact that this platform is being set up under the framework of the CAPFISH programme, the initiative is in fact part of UNIDO-Programme for Country Partnership, which is a framework designed to promote agro value chain and industrial diversification.
"The initiative will contribute to addressing the shortfall of the country's science, technology and innovation while creating an ecosystem which is conducive to businesses and start-ups," he added. Khmer Times