Legislature Approves Cambodia-China FTA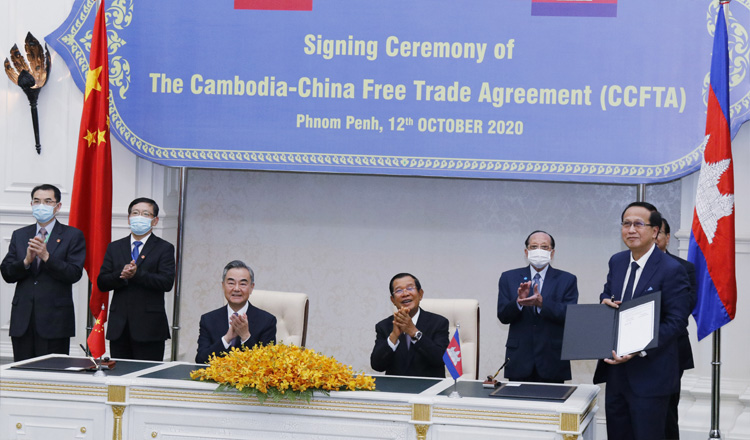 The National Assembly yesterday unanimously approved the draft of a bilateral free trade agreement (FTA) between Cambodia and China, about a year after it was signed by the ministers of commerce of the two countries.
The draft, expected to be fully implemented next year, is important for Cambodia in diversifying export markets for its products.
The initiative of the bilateral FTA talks was made earlier in 2019 and the working groups of the two countries started several rounds of discussion.
The two sides wrapped up discussion in July and the draft then was signed officially to mark the conclusion in October during a visit by Wang Yi, State Councillor and Minister of Foreign Affairs of China in Cambodia.
The drafted agreement has 16 chapters and 140 articles.
Minister of Commerce Pen Sorasak said in August that Cambodia has bilateral and multilateral trade pacts that will enhance and open wider markets for products from Cambodia, particularly agricultural products.
Cambodia is able to produce products that meet China's standards and train highly skilled staff to strengthen the Kingdom's service sector, he said.
"Once implemented, Cambodia will have more markets for products," he added.
The draft will then be submitted to the Senate for review.
Cambodia and China are committed to increasing bilateral trade to $10 billion by 2023, from $8.1 billion last year. That was down by 5.2 percent from 2019, according to a ministry report.
Besides the FTA, the National Assembly yesterday also approved seven other drafts of agreement and laws.
Khmer Times