Global Times Analysis: US attempts to force Cambodia to drop pro-China stand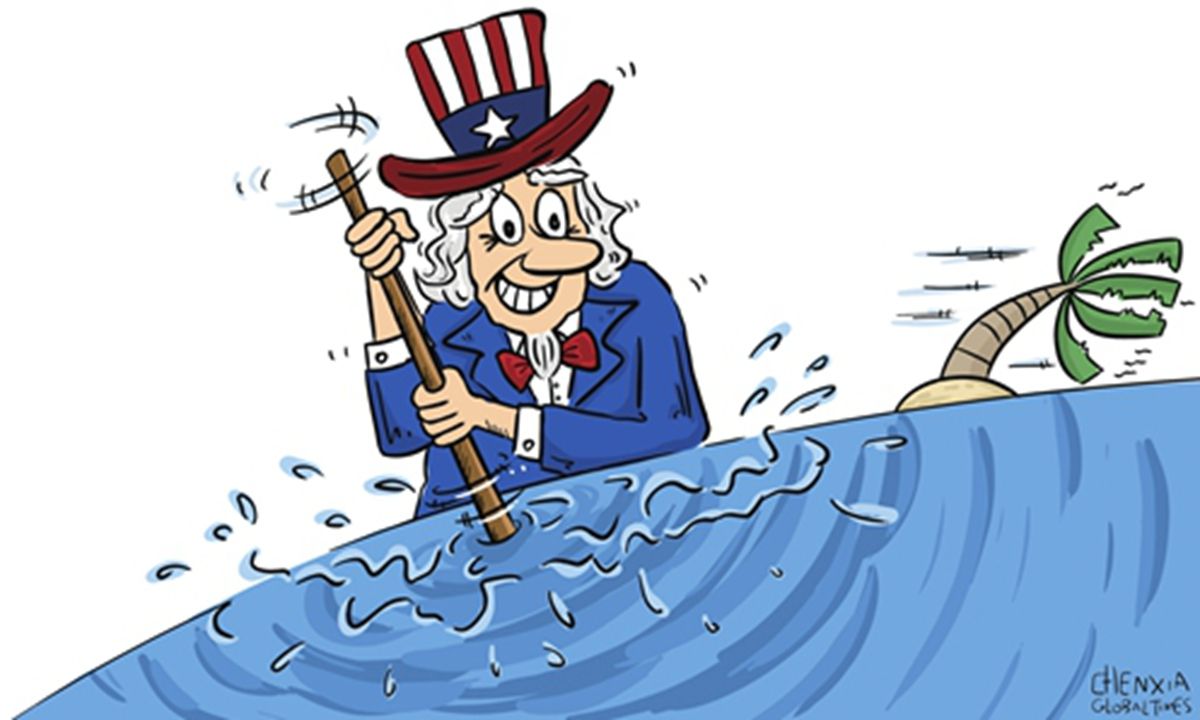 During her recent visit to Cambodia, US Deputy Secretary of State Wendy Sherman played an old trick of Washington – trying to sour Phnom Penh's ties with Beijing. She raised "serious concerns" about China's "military presence" in Cambodia and urged the country's leadership to "maintain an independent and balanced foreign policy," according to a media note issued by the US State Department Tuesday.
Nevertheless, just as Cambodian government spokesman Phay Siphan said, "There are some issues that the US doesn't understand clearly about Cambodia and that Cambodia does not understand the intentions of the US," Reuters reported Wednesday.
As China-US competition heats up, Washington is stepping up efforts to promote its Indo-Pacific Strategy. Southeast Asia, an interface between the Pacific Ocean and the Indian Ocean, has become a forefront of the major power game. Yet China-Cambodia cooperation is seen as an obstacle for the US to implement its strategy. Watching Beijing and Phnom Penh improve their relations steadily, Washington is feeling a pain in the neck. So it started to stir up trouble, driving a wedge by choreographing fake news about the so-called China's military presence in Cambodia.
Cambodian leaders, including Prime Minister Hun Sen, have repeatedly stressed that the country's constitution forbids any foreign military base within its borders. Yet the US is so stuck to its own logic – anyone who does not take the US side must be on Chinese side. For instance, Sherman "sought clarification on the demolition of two US-funded buildings at Ream [Naval Base]… and observed that a People's Republic of China military base in Cambodia would undermine its sovereignty" on Monday.
This is classic US mind-set, which believes a demolition of US facilities naturally equals the building of a Chinese military base, Ge Hongliang, deputy dean of the Asean College of Guangxi University for Nationalities, told Global Times on Thursday.
Both China and Cambodia have on multiple occasions pointed out relevant hypes of the US were trumped-up charges. Yet the US turned a deaf ear, which not only proved Washington's ignorance of Phnom Penh's diplomacy, but also mirrored US' anxiety and hypocrisy.
The US attitude toward Cambodia is the epitome of the US mentality toward the Association of South-East Asian Nations (Asean). Over the years, Asean members have kept a relatively good balance between China and the US, yet this apparently runs counter to US expectations – roping in Asean members to gang up against China.
Divergences between the US and Asean re obvious. South-East Asian countries attach significance on multilateralism while US prioritises "America First."
Asean members are often placed under scrutiny over human rights issues by the US. More importantly, the US way of piling strategic pressure on Southeast Asian countries goes against the will of the region, said Ge.
The themes of Asean Summits mostly focus on two perspectives – enhancing the bloc's unity and adapting to the changing world. This evidently proves that ASEAN emphasizes the resilience and autonomy of their strategies, and oppose acting on any country's beck and call.
But the US has been pressing Asean publicly to take sides while not offering substantial help. During Nikkei's Future of Asia conference in May, Hun Sen stated that China helped funnel billions of dollars for infrastructure projects in Cambodia and the bulk of his country's vaccine supplies are from China, while the US has not fulfilled its promises to Cambodia regarding the anti-coronavirus fight.
"If I don't rely on China, who will I rely on?" Hun Sen asked, according to Nikkei Asia.
The US might have realised it is not easy to turn Asean into a pawn, so Washington may push the region harder. According to Ge, Sherman's trip maybe just a beginning. The US secretary of state may participate in the future Asean Regional Forum, the US defense minister may attend the Asean Defence Ministers' Meeting-Plus, and the US president may also likely join the Asean Summit.
By then, the US will likely put more pressure on the region to serve the framework of its Indo-Pacific Strategy.
But will such US offensive push Southeast Asian countries to behave in line with US expectation? The answer may disappoint Washington. – GLOBAL TIMES