Bakong welcomes Maybank as first international transfer partner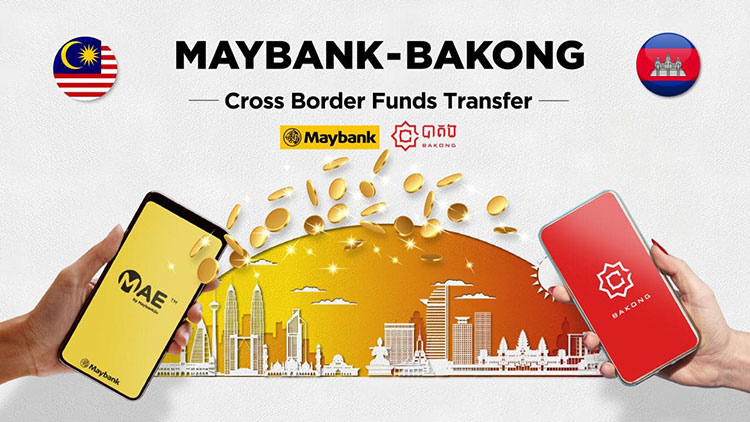 Bakong now allows cross border transfers through a partnership with Malayan Banking Berhad, the National Bank of Cambodia (NBC) announced yesterday.
More than1.1 million Cambodian migrant workers are living outside of the country, according to the UN Department of Economic and Social Affairs Data.
The NBC reported last year that the country received some $1.2 billion in remittances from international workers abroad with those in Malaysia accounting for 1.4 percent of the total number of transfers.
"It dawned on me that we have a lot of migrant workers who send money home to someone and hope that the money will be used for the right purpose," Chea Serey, NBC director-general, said at a virtual ceremony.
"It can turn devastating very quickly and as we know many of the migrant workers in Malaysia are usually women domestic workers. The inspiration behind the collaboration with Maybank … is to help domestic workers remit money cheaply because, as we know, transborder remittance is very expensive for migrant workers. It can go up to 30 or 20 percent," she added.
The new Maybank-Bakong collaboration will allow Malaysian banking clients to directly send money to e-wallets powered by the central bank's blockchain technology via the MAE mobile banking application.
After sharing a deeply personal story on how money sent by migrant workers to families abroad can go awry, Serey stressed that funds would be able to be allocated to pay school fees, utility bills or hospital charges directly, relieving people of the need to rely on others.
After expressing her disappointment regarding the adoption of the Bakong app in March, Serey said that the number of downloads had now doubled to about 200,000 after April's lockdowns.
"Cambodia has a relatively young population and we see very high mobile phone penetration, especially within the economically active age group between 14 to 49-years-old," Dato Mohd Hanif Suadi, chief executive officer of Maybank Cambodia said.
"I believe that in the next 15 years or potentially even sooner, Cambodia will be a fully cashless society where all payments are made electronically." Maybank joined the Bakong initiative in June and had executed roughly $3 million worth of transactions as of Tuesday.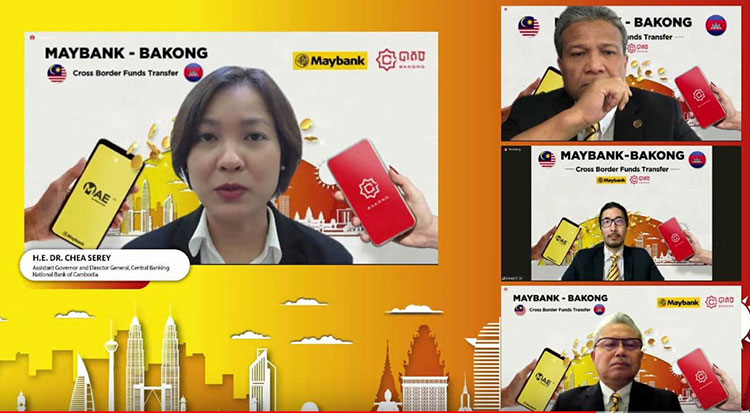 Customers can transfer up to $2,500 and all fees are being waived for a period to celebrate the new partnership. Serey said that initially all crossborder transactions will be conducted from Malaysian Ringgit to US Dollars but stressed that one of the main goals of the app is to encourage further use of the riel.
"Right now, we are doing remittances and are limiting conversion from Ringgit to USD but we are exploring other currencies … one of the main reasons for Bakong is to use local currency easier … definitely there is more that we can do but whatever project we undertake is for the benefit of the people in both countries," she said.
Cheuy Vichet, Cambodia's ambassador in Kuala Lumpur, noted that rapid digitalisation in the ASEAN economy makes regional economic integration more important adding that while cross border payments have received a lot of interest from various stakeholders in the payment industry, they still suffer from a number of challenges including cost, speed, access and transparency that will require international collaboration and commitment," Vichet said. Khmer Times