Support for due process: PM backs collateral seizures to recover loans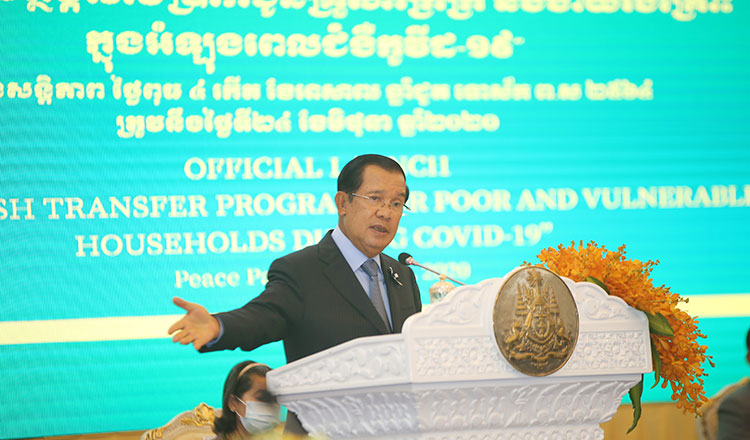 Prime Minister Hun Sen said yesterday he encourages and supports any action by banks or microfinance institutions to confiscate the collateral of debtors who refuse to repay loans following incitement by certain people.
He was reacting to a recent statement by Sam Rainsy, president of the outlawed Cambodia National Rescue Movement, who called on people to challenge their creditors during the COVID-19 crisis.
Speaking during the launch of the "Cash Assistance Program for Poor and Vulnerable Families During the Battle of Covid-19" campaign at the Peace Palace, Mr. Hun Sen said some "inciters" are calling on people to stop paying their debts.
While not mentioning the inciters by name, he seemed to be referring to activists from the Supreme Court-dissolved Cambodia National Rescue Party.
"Someone wants the banks in Cambodia to collapse through inciting people not to pay the debt and urged others [bank and financial institutions depositors] to withdraw their money," Mr. Hun Sen said. "I wish to say that I encourage [these institutions] to confiscate their properties if they believe in those inciters."
However, the premier did appeal for a reduction in interest rates or restructure in repayments in order to ease the difficulties of people during the virus pandemic.
"I appeal to the banks for more understanding during these difficult times [of COVID-19 crisis], but the debtors still need to pay their debt despite some movements urging people not to repay them," Mr. Hun Sen said. "I support the banks to file complaints to the court to confiscate the debtor's assets if they continue to support the propaganda of those inciters."
In his recent statement on his official Facebook page, Rainsy claimed almost three million small borrowers can no longer repay their debts after having lost their jobs or revenues during the current economic crisis.
"Savers are starting to panic and want to withdraw their money. This is becoming harder and harder as the banks are short of liquidity because of the increase in unpaid debts," he said. "The forced freezing of deposits is creating mistrust which is pushing the banks and microfinance establishments towards bankruptcy."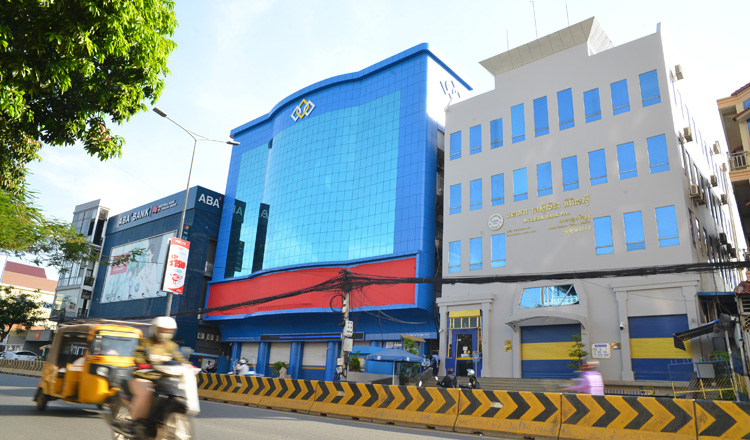 Mr. Hun Sen in March said the government would help ease the situation by disbursing special low-interest loans to specialized banks in a bid to shore up the embattled economy.
The National Bank of Cambodia has also issued guidelines to financial institutions on loan restructuring.
The NBC said all banks and financial institutions should focus on clients suffering from the impact of the coronavirus and prepare loan restructures for those in priority sectors.
These include tourism services such as hotels, guesthouses and restaurants, the garment industry (including employees), construction (first-home buyers and shop owners with loans), transportation (but only taxis and tuk-tuk drivers), and logistics companies.
The NBC in April also requested financial institutions to reduce credit-related fees and lift fines until the end of December. The central bank praised financial institutions for their good collaboration and strong adherence to its previous measures.
Kaing Tongngy, head of communications department at the Cambodia Microfinance Association, told Khmer Times yesterday he is aware of the statement by some politicians over debt issues.
"We have noted an appeal from some politicians, but I believe Cambodian people will do the right thing," he said. "They understand their obligation after taking a loan to do businesses and when they face challenges, they can discuss with creditors to restructure the loan."
Mr. Tongngy said following an appeal by the NBC, the MFIs have taken some actions to restructure their loans for customers affected by the COVID-19 pandemic.
"If they are affected by the COVID-19 pandemic, we will study the magnitude of the effects. "We will give them [the debtors] choices as advised by the NBC," he said, adding that debtors can continue servicing their loans or seek a delay for a specific period.
"The most important choices are they can pay only the interest or delay their repayments from three to six months," Mr. Tongngy added.
He said that from March until June 20, MFIs have restructured credit for over 220,000 people which amounted to about $70 million. Khmer Times