China to continue demining aid grant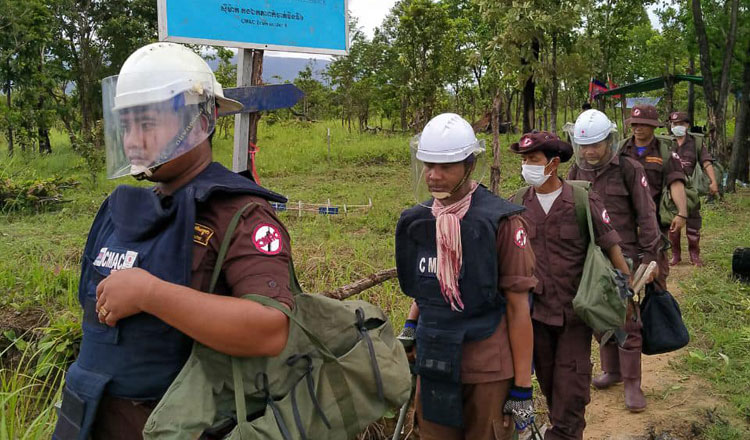 China will continue providing $2.5 million in grant aid to Cambodia to support mine clearance for the whole of next year.
Cambodia Mine Action Center director-general Heng Ratana said yesterday that the Chinese government decided to provide the aid through the Ministry of Economy and Finance to support CMAC for demining operations in Preah Vihear, Oddar Meanchey, Stung Treng, Siem Reap and Kampong Thom provinces.
He said that the project will run for 12 months from January to December 2022 and CMAC plans to clear explosive remnants of war on 1,700 hectares. The funds will also be used to support mine risk education in the provinces.
Ratana expressed his thanks to Prime Minister Hun Sen for pushing the proposal to support this budget during talks with Chinese President Xi Jinping, resulting in the Chinese government's response to the request.
"On behalf of CMAC, as well as mine victims, we would like to express our gratitude to the people and government of China for supporting this important humanitarian fund to support CMAC's demining activities in order to provide security and support development in Cambodia," he said.
Ratana said that the Chinese Mine Action Assistance Project in Cambodia had also provided $2.5 million for mine clearance activities for this year.
He said this assistance had helped CMAC demine 1,083 hectares and destroy more than 5,000 landmines and UXOs during the first six months of the year.
According to CMAC, it has so far destroyed 15,348 landmines and UXOs. The move has freed over 35,652,000 square metres of land from landmines and UXOs, about 31 percent of the yearly plan. CMAC's target is to clear at least 11,300 hectares of land areas with mines this year.
The government has set a goal for Cambodia to become a mine-free by 2025. The country has to date reached the halfway mark of the target.
A recent UNDP report titled "Clearing for Result-Mine Action for Human Development" stated that landmines and ERW continue to be an issue in Cambodia as there remains about 2,000 square kilometres of contaminated land to be cleared. Khmer Times