Cambodian exports reach $8 billion Jan-June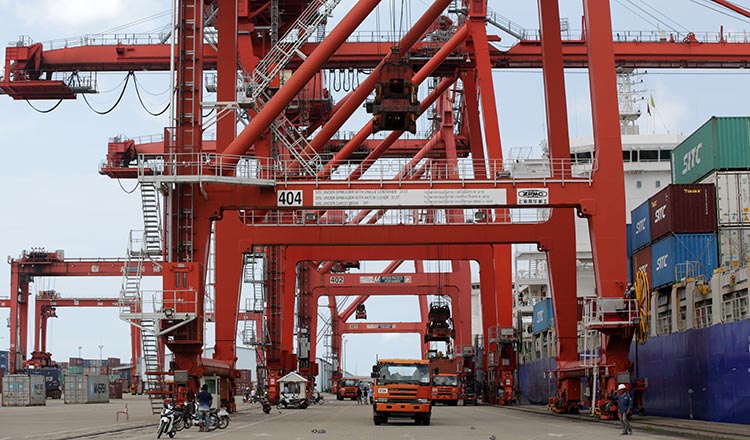 Cambodia exported $8.201 billion in the first six months of 2021, a 17 percent increase compared to the same period last year, according to a report from the Ministry of Economy and Finance.
Figures from the ministry's Department Directorate of Customs and Excises showed that the exports of garment products; cloth, footwear and travel goods, amounted to $4.721 billion, a 0.9 percent increase over last year.
Non-garment products exports of $1.899 billion, including bicycles, electronic components, auto parts and other industrial materials, rose by 50 percent compared to the first semester of 2020. Agricultural product exports netted $1.580 billion. during the period.
The Kingdom's primary export markets are the US, the EU, Canada, Japan, China, South Korea and the ASEAN nations.
Increasing exports are seen as an indication of positive signs in local production and manufacturing despite the pandemic, although the garment sector has taken a significant hit compared to other sectors.
Vongsey Vissoth, permanent secretary of state at the Ministry of Economy and Finance, said recently that non-garment product exports will increase while garment exports are expected to see a contraction.
He added that the recovery of the US economy and other primary export destinations for Cambodian non-garment products will keep production chains in the country busy.
Nguon Meng Tech, director-general of Cambodia Chamber of Commerce, said that export growth is the driving force behind positive activity among the production chains.
"It is a good result from the government's efforts to push active production chains to [maintain] exports [generating] jobs and economic growth," Meng Tech said.
Last year, Cambodia shipped garment, non-garment and agricultural products worth $16 billion, a 14 percent increase compared to 2019 results. Khmer Times