Ministry urges farmers to register for China longan exports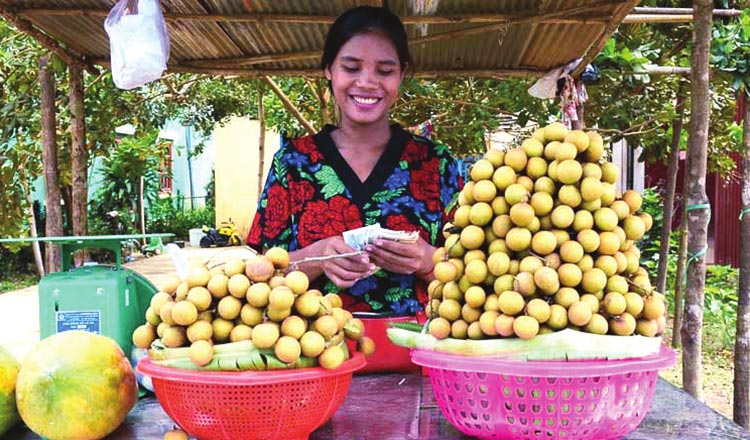 The Ministry of Agriculture, Forestry, and Fisheries has called for farmers and processing plant owners to register for quality inspection related to the exports of longan fruits to China.
In a statement, the ministry said longan farm owners, Pailin Longan Association, and owners of longan fruit processing plants who wish to export to China could register at the ministry for inspection on the quality and technical requirements related to sanitary and phytosanitary standards.
The ministry noted that the country's protocol on sanitary and phytosanitary on longan fruit export to China was put into force in mid-March.
"Those who wish to produce, process, and package longan fruit to China can register longan farms and packaging and processing factories at the ministry for inspection for sanitary and phytosanitary standards," read the statement.
Sreng Seang, president of Palin Longan Association, lauded the move and said longan farmers are strengthening quality in planting based on good agricultural practices as per the guidelines from the agriculture ministry.
He said that more processing factories had been built to support the export of the fruit to China.
"Farmers are strengthening the good agriculture practices to be eligible for exports to China," Seang said.
The longan harvest is now well underway in Cambodia's major longan-producing region of Pailin province. Each year, a substantial quantity of longans from Pailin is sent to neighbouring country Thailand.
Once reaching Thailand, rather than being consumed within the country, many of these longans are re-exported to China.
According to the agriculture ministry, Pailin longan cultivation has reached 13,608ha nationwide. One tonne sells for an average of around $440.
The protocol of sanitary and phytosanitary on longan fruits to China came after the Cambodia-China Free Trade Agreement.
Longan fruit is among other potential agricultural products from Cambodia to be exported to China, said Prime Minister Hun Sen.
"Since earlier this year, Cambodia's export to China has increased significantly, thanks to the Cambodia-China Free Trade Agreement, which came into force earlier this year," Mr Hun Sen said on Friday at the inauguration ceremony of the National Road 51, built under China's concessional loan.
"Under the FTA, China has facilitated procedures on imports from Cambodia," the Premier said. "More products are expected to be exported to China such as longan and 'Pra' fish."
Cambodia exports milled rice, sliced cassava, mango, and banana to China.
Last year, the bilateral trade between the two nations amounted to $11.2 billion, a year-on-year increase of 38 percent.
The Prime Minister said that the Asean-China Free Trade Area, the Regional Comprehensive Economic Partnership, and the Cambodia-China Free Trade Agreement had paved the way for promoting economic and trade cooperation between Cambodia and China. Khmer Times