Exports net nearly $6 billion in first five months of year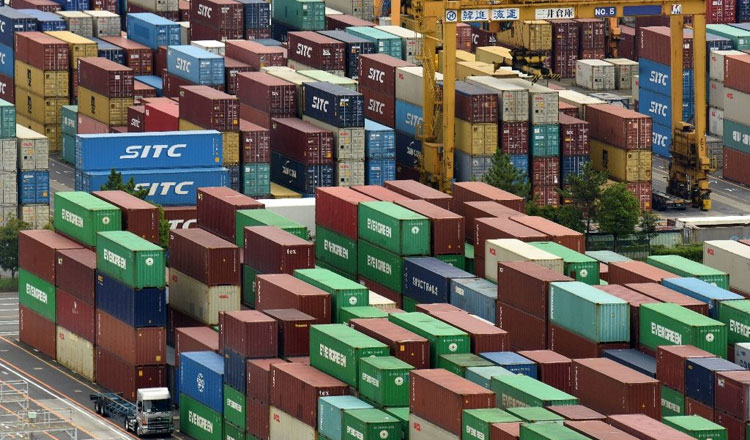 Cambodia's total exports were valued at $5.982 billion in the first five months of 2021, inching up a 1.6 percent increase compared with the same period last year, thanks to the growth of non-garment products.
A report on economic trends from the Ministry of Economy and Finance (MEF) showed the export of garments was on the decrease during this period, but non-garment products such as bicycles, electronic components and agricultural goods were on the increase.
"The pandemic has continued… and pressured main indicators of the country's economic driving sectors," read the report, citing that, as of May 2021, the export of garments, arrival of foreign tourists, activity in the construction sector and foreign investment have all decreased.
"The exports of non-garment products such as bicycles, electronic components and wood-made products and agricultural products have kept the growth trend," read the report.
However, the report did not attach figures for each sector.
Figures from Ministry of Agriculture, Forestry and Fisheries, show exports of Cambodia's agricultural products earned $2.571 billion in the first six months of this year.
Lim Heng, vice-president of the Cambodia Chamber of Commerce, said the increase in exports showed a positive move in trade activity.
"It is a good move to increase exports. On the other hand, the increase of raw material imports reflects the active manufacturing process domestically for producing, processing and packaging for export," he said.
Those products were milled rice, paddy rice, cassava, mango, banana, cashew nuts, pepper,and rubber.
Cambodia's primary markets are the US with 40 percent of total exports, the European Union with 18 percent, China with 9 percent, ASEAN with 8 percent and Japan and the UK with 7 percent and 4 percent respectively. The rest went to other destinations.
In the January-May period, Cambodia imported $8.664 billion worth of products from foreign countries, a 17 percent increase compared with last year, read the MEF report.
The growth in imports was backed by the importation of raw materials for garments, building materials and petroleum, among other products.
Last year, Cambodia exported $17 billion of goods, up by 16 per cent from $14 billion in 2019, while imports were valued at $18 billion, a decrease of 7 percent compared with 2019.
The effect of Coronavirus on supply chains, a shortage of containers in the right places and a dramatic rise in the cost of shipping has affected trade globally. Khmer Times