Cambodia's trade outlook brightens on positive US and China export news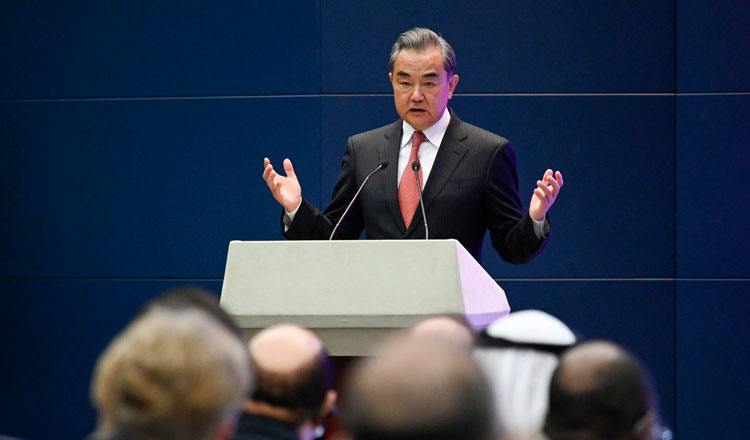 The Kingdom's trade prospects have brightened with news that China has pledged to increase agricultural imports coming on the heels of a report showing a significant growth in exports to the US measured January to April.
The Chinese government pledged to expand its imports of agricultural products from Cambodia, especially rice and mangoes during a meeting between Cambodian Deputy Foreign Minister Prak Sokhonn and his Chinese counterpart Wang Yi, state councillor and minister of foreign affairs for China. The two engaged in a face-to-face discussion while at the ASEAN-China Foreign Ministers' meeting held in Chongqing this week.
"Wang Yi reiterated China's continued support for Cambodia's national development and protection of independence, sovereignty and territorial integrity. China has also promised to import more agricultural products from Cambodia, especially rice and mangoes," read a statement released by the Ministry of Foreign Affairs and International Cooperation of Cambodia.
At the meeting, Cambodia identified other potential agricultural products for export to China including Pailin longan, durian, dragon fruits and bird saliva (the binding agent in bird's nests used in a popular Chinese soup).
The current approved products for export to China are fresh mangoes and bananas.
"The ministry is working to identify the potential products and then provide support because technical assistance will need to be given to lift the production up from planting to processing for export," said Minister of Agriculture, Forestry and Fisheries Veng Sakhon.
Cambodia also plans to negotiate with the Chinese side on setting new quotas for milled rice for export to China. According to the Ministry of Commerce, which will lead the talks with the Chinese side, the new quota of milled rice will be set at 500,000 tonnes, a 100,000 tonne increase from the current 400,000 tonne quota.
From January to May this year, the Ministry of Agriculture reported that Cambodia exported 3 million tonnes of non-rice agricultural products worth $1.799 billion, a 67 percent rise from last year.
At the meeting, the two sides also agreed to increase bilateral cooperation by ratifying their free trade agreement.
This news comes shortly after bilateral trade figures for the first four months of 2021 between Cambodia and the United States were reported to have reached $2.652 billion, a 24.3 percent increase compared with the same period last year.
US Census Bureau data showed that Cambodia exported $2.519 billion of goods to the US during the period, a 24.4 percent increase from a year ago.
Cambodian imports of US goods for Jan-April 2021 increased by 25.5 percent over the same period in 2020.
Lim Heng, vice-president of Cambodia Chamber of Commerce, said the increase in exports to the US reflects a rise in demand in the US market for Cambodian products.
"It is a good sign to see the growth of exports to the US increase because it [indicates] that local manufacturers in the country are operating," Heng said.
Bilateral trade between the Kingdom and the US amounted to $6.9 billion in 2020, an increase of 17.89 percent from 2019. The export value of Cambodian goods was $6.5 billion in 2020, a rise of 22.79 percent from the $5.3 billion recorded in 2019. Khmer Times