CSX continues executing trades under lockdown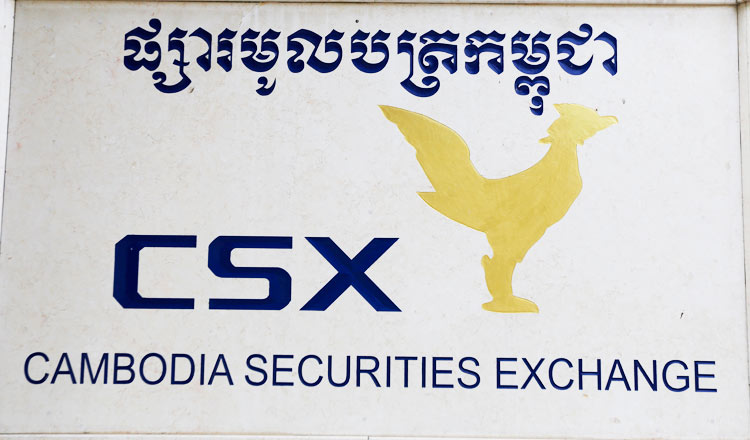 Bowed but unbeaten, the spritely Cambodia Securities Exchange (CSX) is churning away under lockdowns that have affected nearly every aspect of the Kingdom's economy.
Authorities last week implemented strict lockdowns across the capital and Takmao to curb the spread of COVID-19.
The CSX saw a total trading volume of 66,000 stocks with a value of approximately $37,000 as trading resumed on Monday after Khmer New Year under less than ideal conditions, according to Kim Sophanita, director of the CSX Securities Market's Operations Department.
"Even during the travel restrictions during lockdown, all of our brokers are still able to facilitate trades for investors. Most of them are working from home or remotely to connect to the office's computer system," said Sophanita.
She added that that the lockdown was not a "big surprise" because the exchange had prepared a contingency plan for the worst. She credited the digital mobile trading system (MTS) – introduced three years ago – for allowing the CSX to continue operating.
About 99 percent of all trades executed on Monday were conducted through the MTS.
Prom Visoth, ACLEDA Securities chief executive officer, revealed that all his brokers are working as normal and executing trades at the CSX.
"It is a difficult situation at this moment, but we are working diligently during this period to mitigate the effect on the market and we will overcome all these challenges when lockdowns are lifted," he said.
"Trading volume and value has declined slightly during the lockdown. The main challenge is that the CSX will have no new issuers in the first quarter of 2021 but we expect to have some new ones join later in the year," Visoth added.
"Most investors are able to execute trades using the CSX's MTS or by other electronic means such as email or telephone to place orders with securities firms."
In other market news, Phnom Penh Autonomous Port released its Q12021 before Khmer New Year.
The firm reported a total increase of 2 percent in total revenue over the same period last year, deriving $6.202 million from port operations. Revenue from its role as port authority dipped by 22 percent to $884,886.
However, the company appears to be heading into the second quarter well. In March, the firm registered a 28 percent increase to $2.202 million over March 2020. It only saw its revenue from its role as port authority dip slightly by 2 percent, equal to $331,481. Khmer Times