Angkor Archeological Park's re-wilding programme on track to success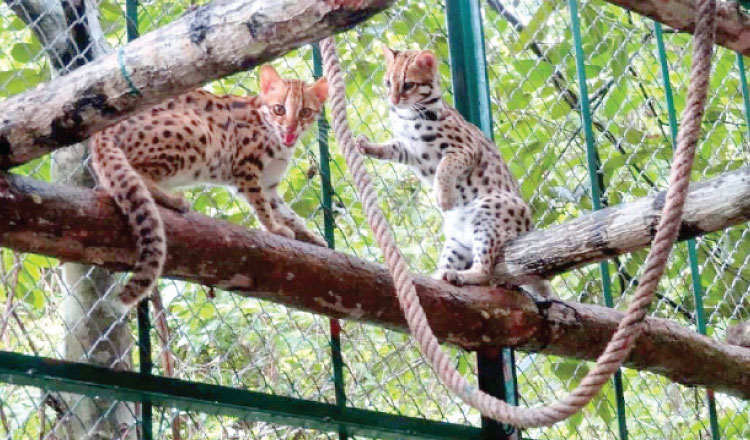 The programme of re-wilding Angkor Protected Landscape is on a positive track, Wildlife Alliance Cambodia has said.
The statement was released by Wildlife Alliance Cambodia recently, following its staff releasing a pair of leopards in Angkor Protected Forest in December last year.
"Staff continue to monitor the area and we are pleased to report that neither cat has returned to their enclosure to eat the food left for them. This is a great sign that they are adapting and their wild instincts are serving them well. The programme is successfully re-wilding the Angkor Protected Landscape and its natural heritage. Many thanks to the Apsara Authority and Forestry Administration," it said.
The pair of leopard cats are one of seven species that have been released in Angkor Archeological Park as part of the initiative to strengthen its conservation of biodiversity and natural habitat.
Apsara Authority spokesman Long Kosal said numerous animals, including pileated gibbons, otters, hornbills, silvered langurs, red muntjacs, binturong and leopards have been released in the area.
"We have observed that after being released they are living there peacefully," he told Khmer Times.
This is an important endeavor in promoting tourism and enhancing the value of Angkor Archeological Park, making it even more attractive, especially after the COVID-19 crisis has passed, he added.
Angkor Archeological Park is one of the most important archaeological sites in South-East Asia. Stretching over some 400 square kilometres, including forested area, Angkor Archaeological Park contains the magnificent remains of the different capitals of the Khmer Empire, from the 9th to the 15th century. They include the famous Temple of Angkor Wat, Angkor Thom and the Bayon Temple with its countless sculptural decorations.
Sean Chum Neat, a 25-year old student, said he is impressed to hear that there are wild animals in Angkor Archeological Park.
"When I went there a few years ago, I only saw monkeys and elephants, but nothing else. Therefore if, Angkor has wild animals it is more impressive for me. I want to see them in the future, when I go there," he said.
Authorities and other experts should introduce more species there, he said, adding that the forest around the temples can be peaceful for wild animals. Khmer Times