Wildlife increases and adapts in Angkor Archeological Park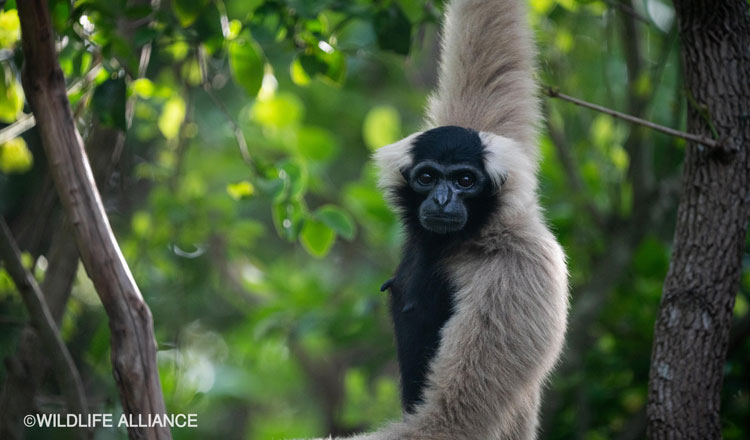 Wildlife Alliance which works together with Apsara Authority and Forestry Administration in the "Bring Back Angkor" project has seen success in the last eight years in bringing wildlife back to the Angkor Archaeological Park.
The project is led by Apsara Authority which manages the park.
Wildlife Alliance in a statement yesterday said that their aim is to reintroduce wildlife within the Angkor landscape.
It started in 2013 with the pioneering release of a pair of Pileated Gibbons. Since then, around 40 animals have been released, including threatened species.
Chou Radina, Apsara Authority's deputy director of the Department of Forestry Management, Cultural Landscape and Environment, said that they recently released three pairs of gibbons that have adapted well to the forest environment.
"They have given birth to a few babies. Now there are twelve gibbons," he said, adding that it's not just gibbons settling into life in the wild at Angkor but also other animals including silvered langurs, palm civets and red muntjacs.
In 2019, Radina said the waterways at Angkor welcomed new residents, namely, a family of smooth-coated otters which have also produced a new generation.
He added that last year, they gave birth to two pups and this was a good indication that the animals are adapting well to their new home within the Angkor landscape as release sites are carefully chosen according to habitat and species needs.
Radina called on tourists and people living nearby not to touch, disturb – and most importantly – not to feed the animals.
"When you feed them, they become habituated to people, meaning they won't adapt to life in the wild," he said.
According to Nick Marx, Wildlife Alliance's director of wildlife rescue and care, the forests surrounding Angkor are a perfect habitat and offer a much-needed safe haven for persecuted species.
"All of the animals released within the Angkor landscape have a second chance at life in the wild and they were rescued from the illegal wildlife trade or born in captivity to rescued parents," said Nick, adding that after rehabilitation at Phnom Tamao Wildlife Rescue Centre, the majority of rescued animals are subsequently released into well-protected habitats, such as the Angkor landscape.
According to Wildlife Alliance, the Angkor temple complex was once lost to the world. Its rediscovery led to global recognition of Angkor as a centre of Cambodia's cultural heritage. If the success of the release project continues, Angkor can reclaim its place as an important site of Cambodia's natural heritage too. Khmer Times