Angkor bridge repairs to be completed two years early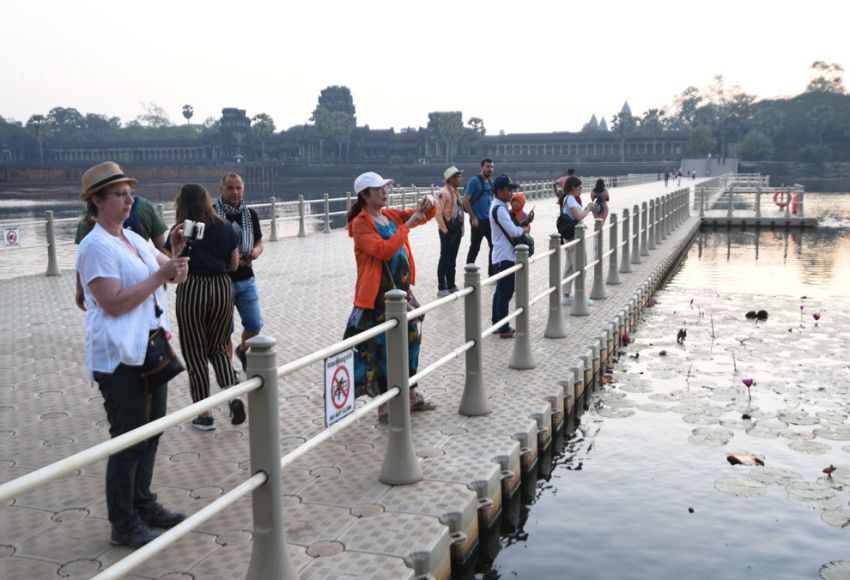 The Apsara National Authority (ANA) said the second stage of repairs on the western bridge of Angkor Wat which started in 2016, could be completed ahead of schedule.
An Sopheap, the manager of the bridge repair project, said he wants to finish the job as soon as possible but technical problems have slowed the operation.
"Within this year, we will repair [parts of] the bridge. The entire plan will be finished by 2022 at the latest," he said.
He said the plan as stipulated in a Memorandum of Understanding (MoU) signed with Japan was to complete the job by 2024.
The MoU between Japan and the ANA was suspended once due to a lack of technical teams which wasted two years before repairs could start.
Sopheap said repairs to the bridge are currently 60% to 70% completed.
ANA, he said, is repairing the bridge to improve the safety of tourists and enhance the value of Angkor Wat.
ANA spokesman Long Kosal told The Post on Monday that the ANA will remove the floating bridge currently being used by tourists once the repairs are finished.
"The floating bridge is [being] used while the original bridge is under repair. When the original bridge is done with repairs, we will remove the floating bridge," said Kosal.
An ANA report said the most recent repairs are different from the first stage, which took place from 1996 to 2007.
Experts from the International Coordinating Committee for the Safeguarding and Development of the Historic Site of Angkor (ICC-Angkor) required the repair team to preserve its design and aesthetics even though its structure has been severely damaged.
This makes it hard to repair the bridge and experts have been tasked with finding techniques to strengthen its structure without affecting its appearance. They will achieve this by combining the use of modern tools with ancient techniques.
The bridge measures 190m long, 11.6m wide and 4m tall. Phnom Penh Post