Cambodia-South Korean bilateral trade recovering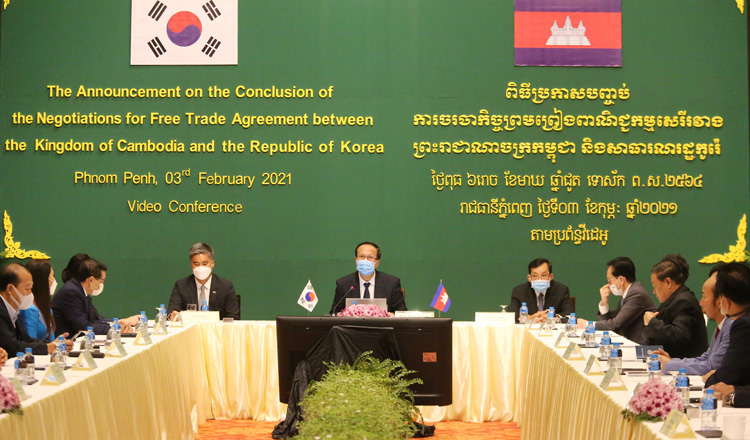 Bilateral trade between Cambodia and South Korea has started to recover following a decline in 2020 from the COVID-19 pandemic.
Figures from the Korea International Trade Association (KITA) showed that Cambodia exported $32.3 million of products to South Korea in January, an increase of 2 percent compared with the same month last year.
Meanwhile, Cambodia imported 52.2 million of products from South Korea, an increase of 12.5 percent over the same period last year.
The recovery of two-way trade comes as the two countries are set to sign a free trade agreement (FTA) later this year following the successful conclusion of FTA negotiations announced earlier this year.
Minister of Commerce Pan Sorasak and South Korea's Trade Minister Yoo Myung-hee said that the FTA will contribute to boosting the bilateral trade of the Kingdom and South Korea.
"The bilateral FTA aims to further strengthen the economic partnership and further liberalise bilateral trade between the two economies in a mutually beneficial manner by creating more economic and social benefits for the peoples and businesses of both countries," stated a joint statement after the two countries announced they had concluded their negotiations on a bilateral free trade agreement.
"Furthermore, both countries believe that this important bilateral agreement can facilitate a swift economic recovery for the two countries during and after COVID-19 pandemic," read the statement.
Bilateral trade between Cambodia and South Korea was valued at $884 million as of December 2020, a year-on-year decrease of 14 percent. Of that, Cambodia exported $317 million of products to South Korea, a decline of 18 percent compared with the previous year. Khmer Times