National Road 10 project construction on track, 43.75% complete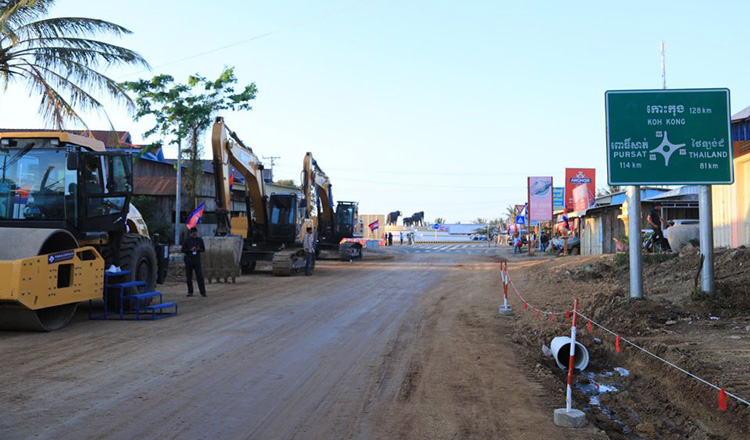 National Road 10, which will link Battambang to Koh Kong province, is now 43.75 percent complete and scheduled to open for traffic in 2023. This was announced by the Secretary of State of the Ministry of Public Works and Transport Bong Bun Hourn following an inspection at the site earlier this week.
During the visit, the secretary of state urged China Road and Bridge Corp (CRBC) and WACC Technical Consulting Co to continue working at the same pace and to ensure that the construction adheres to technical standards.
Stretching over 199 kilometres, the road links the Samlot district of Battambang province to Koh Kong province, passing through Veal Veng district in Pursat province. The project is being constructed at a cost of $188 million. That investment is being borne by a Chinese loan and by the Cambodian government.
Ground was first broken on the project in March 2020.
The official project launch was celebrated at a ceremony in March 2020 presided over by Prime Minister Hun Sen with Chinese Ambassador Wang Wentian in attendance.
The prime minister said at the time that the road would contribute to the creation of an important economic corridor between Cambodia and Thailand.
"One of the purposes of these national roads is to connect with neighbouring countries in the region – and then the world. They will help to facilitate an investment climate and improve trade, tourism and cross-border cooperation, while also creating jobs and promoting social welfare and education for people," he said.
The prime minister added that the routes would help to reduce poverty in the Kingdom because the trade routes would boost the economy overall.
Two-way trade between Cambodia and Thailand was valued at $7.236 billion last year, a decrease of 23 percent from 2019 figures, according to Thailand's Ministry of Commerce. The leaders of the two nations agreed in 2015 on a goal to triple bilateral trade to $15 billion by 2020. Figures released this week showed that the COVID-19 pandemic stopped bilateral growth in its tracks, with the 2020 figures reaching less than half of the targeted goal.