'Rielisation' and dollars provide Kingdom with an economic 'moat'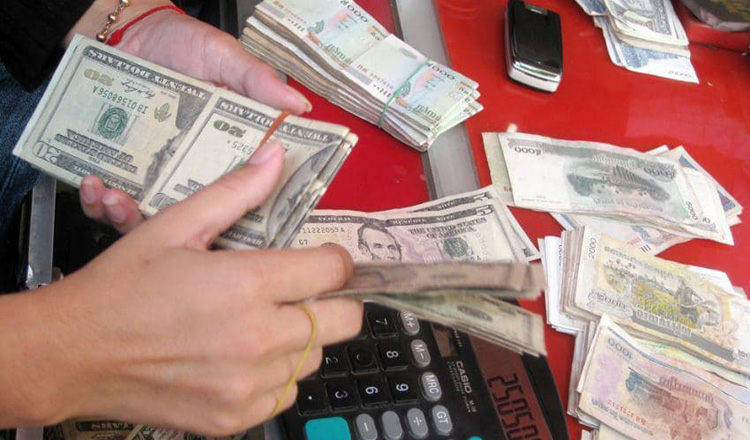 As Cambodia works towards its goal of de-dollarising the economy, its dual-currency system is bolstering the population's purchasing power while other emerging economies struggle to keep pace with the rising greenback.
A Bloomberg report from earlier this week said most developing nations' currencies have experienced a slump over the past two weeks while the US dollar has been on a steady rise since Jan 6 because of newly inaugurated US President Joe Biden's proposed $1.9 trillion stimulus package.
"Cambodia is in a flexible and favourable position with its dual-currency system," Cambodian Derivatives Exchange Director Lawrence Kook said.
"The rising dollar does more good than bad for Cambodia because, in theory, currency depreciation bodes well for countries such as Cambodia that rely on exports that may ultimately help balance out the Kingdom's trade deficit," he added.
The New York-based MSCI Emerging Market (EM) Currency Index, which measures returns for 25 emerging economies relative to the US dollar, shows a negative correlation between the greenback's and EM currency performances.
Although Cambodia's riel is not included in MSCI's index, data from the National Bank of Cambodia (NBC) supports Bloomberg's analysis. NBC exchange rates show the riel fell to 4,055 KHR/USD from 4,030 KHR/USD – a 0.61 percent decline over a four-week period.
Conversely, the US Dollar Index saw a 0.13 percent surge over the period to 90.77 on Monday, before seeing traders begin shorting the currency upon the confirmation of Janet Yellen, incoming chair of the US Federal Reserve on Tuesday.
Kook said via telephone that Cambodia's dual-currency system allows the Kingdom greater flexibility when it comes to navigating volatility in the foreign exchange market, as we have seen in recent weeks.
"The two-currency system gives businesses, governments and merchants flexibility when they are conducting a transaction," he said.
"We have seen that when EM currencies drop, Cambodia has the option of switching back to the riel when it is favourable to conduct business in local currency or vice versa," he added. The Kingdom's export market may see net benefits because of the falling riel, according to Kook, who noted conventional economic theory states that devaluation of a currency often results in increased market exports – which may serve as a much-needed relief after the Everything But Arms preferential treatments were partially revoked and, subsequently, the economic devastation brought on by the COVID-19 pandemic.
Cambodia adopted the US dollar after the fall of the Khmer Rouge in 1979 to ensure consumer confidence in the economy after that regime's attempt to abolish money.
In the years since the regime's downfall, the Kingdom has seen sustained growth and registered record gross domestic product (GDP) growth consistently, reporting GDP growth of 7 percent a year for nearly a decade before the pandemic.
While the NBC has yet to set a specific date on de-dollarising the economy, it has made strides towards achieving that goal.
Last year it encouraged the public to use the riel by discouraging retailers from exchanging dollars in cash transactions below $10. In 2016, the NBC mandated that microfinance institutions and commercial banks provide at least 10 percent of their lending in riels by 2020.
The NBC also launched its blockchain-based Bakong payment system last year, in part to promote the use of the riel.
As a result, derivatives trading is common in the Kingdom, although it is not done through conventional means using large financial institutions. Foreign exchange (Forex) traders often monitor exchange rates to exchange riels to dollars and vice versa through informal moneychangers when the opportunity to make a profit strikes.
Forex traders have largely been trading on speculation surrounding vaccine developments since rollouts began with the dollar rising on positive developments before dipping when negative news arises.
That is similar to market action on gold, which rises in value when consumer confidence dips.
"I predict that the price of gold will rise this year if the vaccines doesn't work to their expectations. When they were first introduced, gold went down and saw a sharp drop, but when we saw that not all of the vaccines were as effective as previously thought, the dollar followed gold and saw a sharp rise," said Kook.
The riel, however, may see a comeback because of the very reason that it experienced a pullback.
Biden's hefty stimulus package may lead to inflation and eventually power the riel to recovery. Khmer Times