Cambodia's WC qualifying matches rescheduled to next year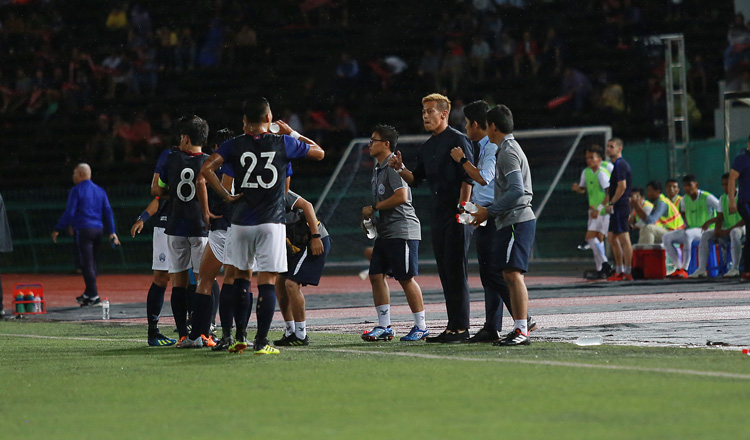 The Cambodian national football team will not be playing all their remaining matches this year for the 2022 World Cup qualifiers.
Cambodia is in the second stage of the qualifiers with three remaining matches against Iran, Bahrain, and Iraq.
The matches were originally scheduled for early this year but were rescheduled because of the coronavirus pandemic.
The original schedule would have seen Cambodia facing Bahrain on March 26, followed by a match against Iran on March 31 and Iraq on June 4.
But facing a rapidly deteriorating health situation, the Federation Internationale de Football Association (FIFA) and Asian Football Confederation (AFC) decided to postpone the matches.
Later on, they announced that the postponed matches will be held over four days in October and November.
Consequently, it was announced that Cambodia-vs-Bahrain match will be held on October 8, followed by the Iran-versus-Cambodia game five days later.
But yesterday, FIFA and AFC jointly announced that Asia's World Cup qualifiers will be postponed to next year "with the aim of protecting the health and safety of all participants".
"FIFA and the AFC will continue to work together to closely monitor the situation in the region and to identify new dates for the respective qualifying matches," they said in a joint statement.
The announcement did not give new dates for the matches. "Further details on the new dates for the next round of qualifying matches for the FIFA World Cup 2022 and the AFC Asian Cup 2023 will be announced in due course," it added.
Cambodia is in the bottom of Group C with a single point to show after registering a draw and four losses in five matches. Cambodia lost to Iran, 14-0, Bahrain, 1-0, and Iraq, 4-0, during the first leg of the qualifiers. The Cambodian team managed to hold Hong Kong to a draw during their first match but lost, 2-0, during the return match.
Iraq is leading the group with 11 points after winning three games and drawing two more. Bahrain is number two (nine points) after two wins and three draws, followed by Iran (six) with two wins and two losses and Hong Kong (five) with one win, two draws, and two losses so far.
The eight group winners plus the four best group runners-up will advance to the third round of the World Cup qualifiers and will qualify for the 2023 AFC Asian Cup Finals.
It is not only in Asia that the World Cup qualifiers are facing delays or changes of schedules. In South America, the continental football federation (CONMEBOL) has yet to start with its own qualifiers due to the pandemic. Khmer Times