Morodoc Techo Studium to host int'l football matches from 2021 onwards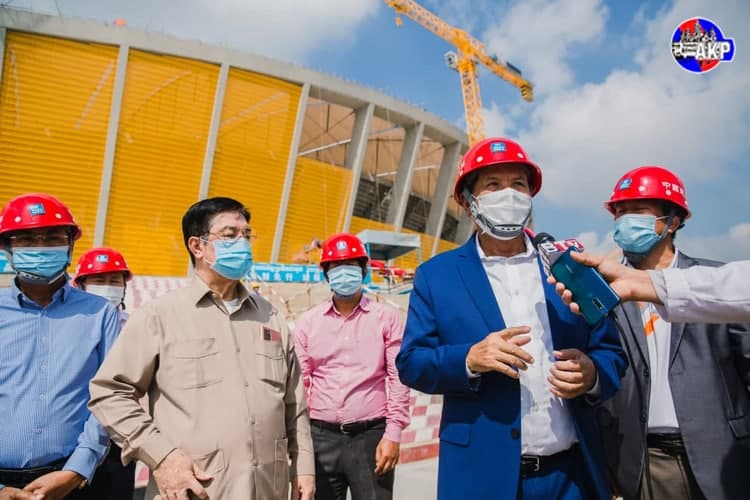 The Morodok Techo National Stadium will host international football matches once it is completed, a top official of the National Olympic Committee of Cambodia (NOCC) revealed.
NOCC Secretary-General Vath Chamroeun said football matches featuring local and international teams will be among the many sports activities that will be held at the new stadium from 2021 onwards.
Construction of the new stadium is 85 percent complete and is scheduled to be finished by May 2021. A workforce of more than 500 people, of which more than half are Cambodians, is working on the project.
On Monday, a delegation of sports officials headed by NOCC President Thong Khon and Chamroeun went to the site to check on the progress of the project. Chamroeun said that everything is in order, except for some delays in transporting the roofing materials that they have ordered from Germany.
"After the completion of the main stadium, we will have a lot of activities," said Chamroeun, mentioning the opening ceremony and a friendly match between football teams from Cambodia and China.
He said the new stadium would also be a venue for regional football qualifiers. In the past, international football qualifiers involving Cambodia were usually held at the Olympic Stadium.
"Asean teams and those from other continents can come and compete at the Morodok Techo National Stadium to try out our new football pitch," he said.
The bigger capacity of the new stadium will make it the most ideal location in Cambodia for international football matches. The Morodok Techo National Stadium can accommodate more than 75,000 people.
Cambodia still have several matches left from the 2022 World Cup Qualifiers. Several of these matches, including the one against Iran, are supposed to be held here.
The Kingdom is also a participant in several upcoming tournaments organised by the ASEAN Football Federation (AFF) and Asian Football Confederation (AFC). Some of the AFF and AFC games could be held in Cambodia, though organisers have temporarily ditched the two-leg series (home and away) and opted for a centralised venue in light of the coronavirus pandemic.
The new stadium, according to Chamroeun, will also be used for the annual championships of various sports federations. In addition to an international-standard football field, the Morodok Techo National Stadium complex also features a running track, a swimming centre, a badminton and table tennis hall, a gymnastics and traditional sports hall, among others.
"Cambodian athletes can also train there to adapt to the environment and prepare themselves ahead of the 2023 Southeast Asian Games," he said.
The Morodok Techo National Stadium will host most of the major events in the 2023 SEA Games, including the opening and closing ceremonies. Khmer Times