Visakha Players, Officials Test Negative for Substance Abuse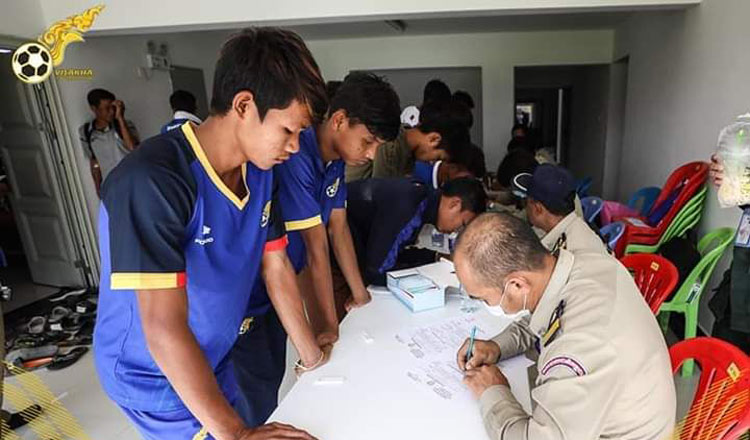 Following the lead of Angkor Tiger FC, Visakha football club had its players and team officials undergo a drug test.
According to a post on the official Facebook page of Visakha FC, the Club collaborated with the Interior Ministry's Anti-Drug Department to conduct the test a few days ago.
The post did not mention the exact number of people who submitted blood and urine samples for testing, but according to local media reports, those tested came from the senior and youth teams of Visakha FC.
The same reports noted that players, coaches and team staff were tested not only for illegal drug use, but also for various diseases. The reports quoted Visakha FC General Manager Hok Sochetra as saying the results all came out negative.
Tiger Angkor FC set an example late last month by having most of their players, coaches and team staff undergo a drug test.
Thirty-two team members had their urine samples taken for testing at Life Care Clinic in Siem Reap city. None of them tested positive for illegal drug use.
It is expected that more teams will follow the example set by Visakha FC and Angkor Tiger FC, both of which play in the top-tier Cambodian League.
Earlier, Yusuke Shinoda, general manager of Angkor Tiger FC, said it would be good for teams to submit for drug testing. He said it will help restore the image of the League, which has been recently tarnished by incidents of players caught using drugs.
"It's up to them. But if they want to help restore the image tarnished by the actions of the Boeung Ket player, they should," he said, referring to Boeung Ket FC midfielder Mat Yamin who was caught in a police dragnet last month. Upon learning of the incident, Boeung Ket FC immediately terminated Yamin's contract.
There were also unconfirmed reports that the same dragnet which targeted illegal drug users in Phnom Penh netted another player from a different club.
In the past, several Nigerian players belonging to local football clubs were arrested and charged for drug trafficking.
Though it's not mandatory in the Cambodian League, several teams, including Visakha FC, have had their players and staff undergo drug tests in the past.
Visakha FC placed second in last year's edition of the Cambodian League. The team is among the favorites to win the title this year.