Volleyball: Cambodia ranks 136th in the world, 5th in SEA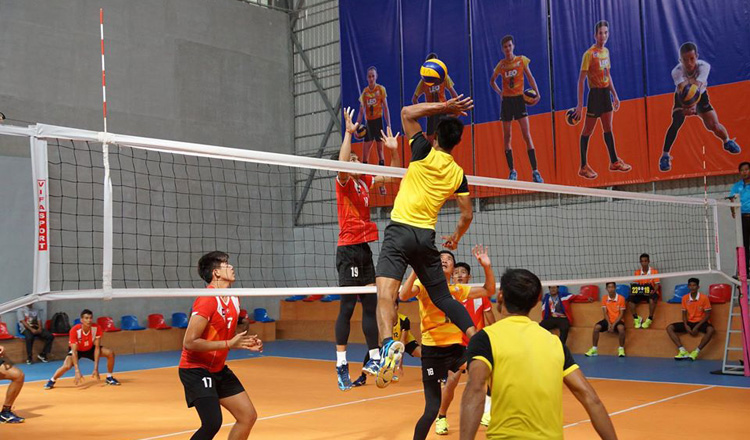 Volleyball is increasingly becoming popular as the Kingdom makes headway with the sport in the international scene.
The Senior World Rankings released this week by the Fédération Internationale de Volleyball (FIVB) put the Cambodian men's team in the 136th spot.
Released annually, the rankings are based on a country's performance in FIVB-sanctioned international matches and tournaments. The rankings are later used to determine the seedings in international competitions.
Despite the low ranking, this is particularly notable as the Kingdom was not included in the same rankings last year.
The Cambodian men's volleyball team registered 50 points, putting it in the same ranking as Afghanistan, Angola, Armenia, Bahrain, Benin, Bhutan, Brunei, Burkina Faso, Cape Verde, Central African Republic, Comoros, Cook Islands, Djibouti, East Timor, England, Philippines, Malaysia, Laos, Singapore, and several other countries and territories.
With 427 points, Brazil is ranked as having the best men's volleyball team in the world. This is not surprising considering that Brazil often competes and wins in international volleyball competitions.
In Southeast Asia, Thailand has the best men's volleyball team, ranking 37th, followed by Indonesia (70th). Vietnam and Myanmar are both in the 91st spot.
Cambodia fared better on the women's side, ranking 119th in the world alongside Bangladesh, Armenia, Afghanistan, Bahrain, Brunei, Central African Republic, England, Ethiopia, Malaysia, Myanmar, Philippines, Singapore, and several other countries and territories.
While not as popular as football, martial arts, or boxing, volleyball is making headway, with more locals playing the sport, not only in Phnom Penh but also in other provinces. In the suburbs of Phnom Penh, volleyball courts have sprouted and many of the sports clubs here also host volleyball games.
The Cambodian Volleyball Federation (CVF) headed by General Neth Savoeun has been holding local volleyball tournaments in the past several years. The General is also the National Police Chief of Cambodia.
The Filipino community has also come up with its own volleyball tournaments, including the ongoing Pinoy Volleyball Sports Club in Cambodia League. Other expats have also organized their own volleyball competitions that drew American, British, Australian, and European participants.
Internationally, Cambodia has been sending volleyball teams to compete in the Southeast Asian Games and other tournaments abroad. During the 2019 SEA Games in the Philippines, the Cambodian men's volleyball team was able to beat a heavily-favored team from Vietnam in the preliminary round.
Last year, Cambodia sent a team to Thailand to compete in the ParaVolley Asia Oceania Sitting Volleyball Championship for the first time.
Cambodia is also starting to host international volleyball and beach volleyball competitions.
In February 2020, the Kingdom hosted the FIVB Beach Volleyball World Tour for the third straight year. The men's part of the tour was held in Phnom Penh, while Siem Reap hosted the women's competition.