Cambodia lifts cross-border travel restrictions with Vietnam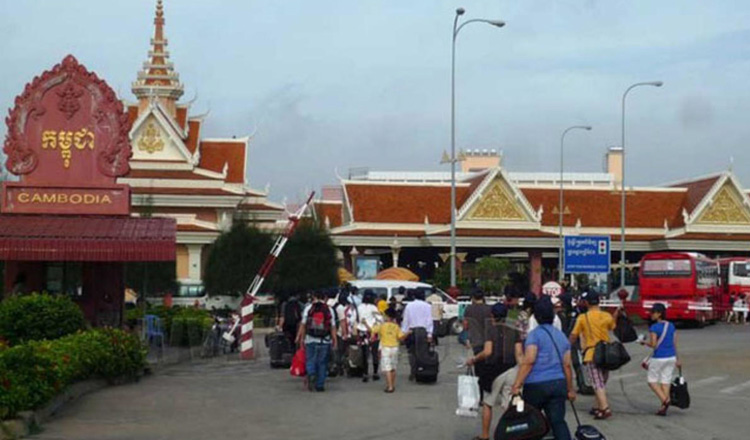 The government yesterday informed Vietnam regarding its decision to lift the ban on cross-border movement via borders shared with the country but said prevention guidelines remain in place to mitigate risks of coronavirus transmission.
The move comes three months after Prime Minister Hun Sen declared the closure of borders shared with Vietnam, a day after the latter pulled up its drawbridge and imposed a nationwide lockdown in a bid to control imported COVID-19 cases.
In a diplomatic note sent yesterday to the Vietnamese embassy, the Ministry of Foreign Affairs imparted the annulment of border restrictions between Cambodia and Vietnam as of June 19.
"Measures as prescribed in the announcement of the Inter-Ministerial Committee for Fighting COVID-19 of Cambodia dated 20 May 2020 and the latest related subsequent measures that have been put in place by the Committee and applicable to all countries shall be applied for border crossing between Cambodia and Vietnam," the diplomatic note, which must be forwarded to Vietnamese authorities, said.
The note was preceded by a letter issued by the Foreign Affairs Ministry secretary of state Ouch Borith on June 19 informing Interior Minister Sar Kheng of "allowing Vietnamese people to enter Cambodia" – a decision which was made following the approval of Mr Hun Sen two days prior.
However, Mr Borith said Vietnamese nationals who wish to enter the Kingdom must adhere to the health measures issued by the Inter-Ministerial Committee.
"I wish to additionally inform that for Vietnamese nationals, especially technicians, investors, and students, may get other visas except for a tourist visa," he said.
General Keo Vanthorn, deputy director at the Ministry of Interior's General Department of Immigration, yesterday confirmed the implementation of the new government measure while Vietnamese Ambassador to Cambodia Vu Quang Minh on Sunday welcomed the move.
"Of course, I would say this is great news [as it would] facilitate[e] the economic, investment and trade between our countries, [and] allow our businessmen to travel and cooperate," he said.
"This eas[ing] of restriction [will] also allow our students to come back to their universities in Vietnam and Cambodia. Our countries have managed the epidemic very well so far, with no death and more than two months [of no] community transmission," added Mr Vu. "We both can be proud and think about measures to mutually eas[e] travel restrictions between us."
Chan Sophal, director of the Centre for Policy Studies, yesterday likewise expressed support for the lifting of border restrictions.
"I welcome [Vietnamese nationals], such as investors and businessmen, to come in and out of the country because they could help [boost] our economy, which is seriously suffering from the pandemic," he said. "We already know that both countries do not have many COVID-19 cases [compared with other countries], so the risk is of a new infection is low."
Despite concerns over a new wave of infections, Dr Sophal said now is a "suitable time" to allow travel between the two nations.
He also encouraged the reopening of borders shared with Thailand and Laos so economic activities with the neighbouring countries can resume as the Kingdom in March found itself almost sealed off after the two countries closed their borders amid coronavirus fears.
"We should pay more attention to the economic sector," said Dr Sophal. "However, the reopening of the borders must come with a clear mechanism to control risk [of virus transmission]. It does not mean that we will allow them to enter our country freely."
In related news, Banteay Meanchey provincial governor Oum Reatrey recently sent a request to Thailand's Sa Kaeo provincial governor Voraphan Suwannus, asking for a meeting today to discuss the reopening of the Poipet- Khlong Luk International Checkpoint, the most important border point shared by the two nations.
His request was made following his provincial administration's rejection of the Cambodian Informal Economic Workers Association's request to protest at the Cambodian-Thai border to demand its reopening.
The protest, which was slated to see the participation of 1,500 vendors, was prohibited in light of the Kingdom's COVID-19 containment measures.
The easing of cross-border movement restrictions follows the Kingdom's resumption of air travel.
On May 20, after announcing the lifting of the entry ban on six countries, the government ordered both Cambodians and foreigners entering the Kingdom to meet a series of requirements including a COVID-19-negative health certificate issued no longer than 72 hours from the date of departure and health insurance with a minimum coverage of $50,000.
These were followed with the decision early this month to require foreign visitors to make a $3,000 deposit upon arrival at the airport. The deposit, transferrable via cash or card, will cover costs for COVID-19 screening and quarantine procedures – a sharp turnaround from Mr Hun Sen's announcement in March, saying all patients, regardless of nationality, who test positive for the virus in Cambodia will receive free medical treatment.
"We are poor, but our heart is big," the premier said at the time.
While Cambodians holding foreign passports were spared from the latest requirement, foreign diplomats were allowed to only go through a self-quarantine upon arrival in the Kingdom.
Currently, the Kingdom has confirmed 129 known infections, which include 58 Cambodians, 40 French, 13 Malaysians, five British, three Chinese, three Vietnamese, two Americans, two Indonesians, two Canadians and one Belgian.
Of them, only two remain under treatment at the capital's Khmer-Soviet Friendship Hospital after a 22-year-old Cambodian from Kampong Cham province recovered on Sunday.
Credited: Khmer Times