Further $12million prepared for workers suffering suspension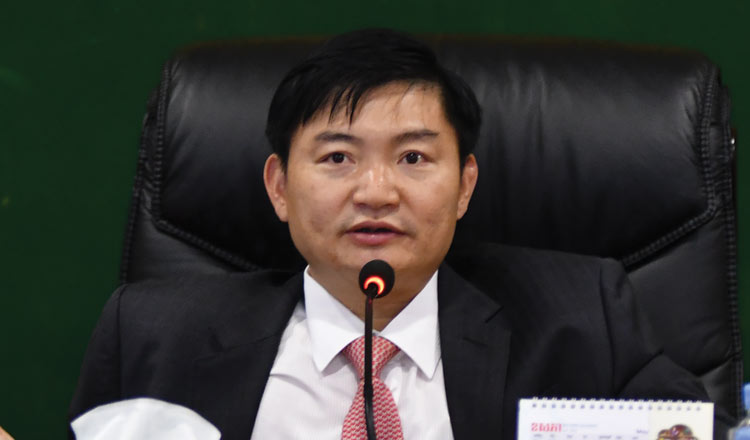 Until now, he said, around 110,000 workers have received their allowances across 344 factories and enterprises.
He said that Wing will send a message alert to each worker to come and collect their allowance when all details have been properly submitted.
"The workers are happy when they see a text alert from Wing," he said.
"If workers do not see a message, they should contact their company because there could be an error, such as a wrong phone number or name."
He said the ministry has transferred a total of $2.4 million to Wing accounts between May 28 and June 3.
"We have urged companies to try to find work for [displaced] workers. However, the state is doing its part to support the workers' livelihoods with these payments," he said.
He said that the transfer marks the first phase of the out-of-work payment allowances that have been scaled dependent on the period of time a worker has been suspended for, with $15 paid for seven to 10 days of a suspended one-month contact, $30 for 11 to 20 days and $40 for over 21 days.
Regarding the period of suspension, Mr. Sour explained that the ministry must divide it because some factories are resuming work earlier than expected.
"For example, some factories have applied for a two-month suspension but one month later they receive an order from a brand, allowing them to resume operations. That is why the ministry calculates payments across the given time periods," he said.
He added that the ministry is preparing a further $12 million transfer to Wing for allowances in case the situation continues.
He said the ministry is allowing companies to suspend operations for a maximum of two months at a time. They can then apply to suspend for another two months pending ministry approval, he said.
"This sector needs to be flexible to ensure the workers have some income for their daily living during these difficult times," he said.
Manager of Wing Cambodia Chun Vantank Pheakdey said in an interview with CNC TV on Thursday that Wing has 7,500 stalls throughout the country available to service workers and dispense allowances.
He said the process only requires an identity card and phone number of the worker.
"It is an easy process. I am proud of Wing that, as a private company, we could cooperate with the state to pay allowances to the workers directly without them losing one cent," he added.
"Wing was already well-used by workers to transfer money to their hometown from the city. They trust that with Wing, they will not lose their money," he said.
He also said that around 50 percent of all workers had accessed Wing stores in Phnom Penh, Kandal, and Kampong Speu provinces.
On Tuesday last week, Garment Manufacturers Association in Cambodia, Cambodia Footwear Association, and European Chambers of Commerce in Cambodia sent a joint letter to the European Commission to request for the postponement of the Everything-But-Arms withdrawal due to the COVID-19 pandemic.
"The pandemic has had a devastating impact on the economy globally and the situation is no different in Cambodia, where the country relies heavily on its trade with Europe," according to Amaud Darc, Chairman of the EUROCHAM.
"In this context, the European Commission's scheduled August 12 implementation of the EBA withdrawal would be a massive blow to the Cambodian industry," he said.
"If the withdrawal goes forward, orders and jobs will be lost and parts of the sector will not recover. The EU must not ignore the gravity of the situation and the devastating impact of removing EBA benefits in August, as the damage of an unprecedented pandemic is still being felt by our sector," Van Sou Ieng, chairman of the GMAC, said.
Srey Peak, a garment worker in Phnom Penh, said she received her allowances from the government and company, totaling $70.
She thanked the government for intervening amid the pandemic.
"This allowance will help me pay my rent and support my daily needs. It is not enough, but it will help during this time. We thank the company and government for intervening to give some allowance," she said.
"Between the suspension of my job and having no income, it is not easy. The longer this situation goes on, the worse it will get," she said.
"I don't dare buy anything. I must save any money I get for rent, to service debt and to spend on food," she said.
Yang Sophorn, president of the Cambodian Alliance Trade Union, said that recently, the workers are facing a multitude of difficulties. He added many are still fighting for money they are owed from companies that suspended operations without paying for their workers' allowances, leaving workers stranded.
"This pandemic has really affected the worker's lives, especially regarding family finances. They have no income but still have to service debts, rent, and support their family livelihoods. It's getting people down," she said.
Chan Dina, president of the Woman Protection Association in Tuol Sangke commune, said women are suffering the worst from job losses such as in the garment and tourism sectors, all while trying to raise families.
"The situation for women during this time is very difficult. They have no job, no income but get no respite from debt or rent and must spend the same amount as before COVID-19."
"Some women manage to find other jobs but it's a small minority. Some go back to their homeland because living in the city forces them to spend a lot. So, they help their parents with agriculture work if they have that choice. However, not all women do," she said. Khmer Times